Hamilton Alumnus "Paints" with Glass and Light
---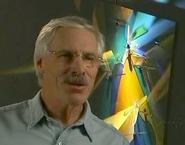 Stephen Knapp '69 of Worcester, Mass., uses glass and light the way many artists use paint and brush. A recent article in the Worcester Telegram & Gazette highlighted Knapp's process for creating "light paintings" using glass and light.
The article focused on Knapp's most recent work, a 23-by-40-foot-wide three-dimensional light painting, commissioned by Ball State University in Muncie, Ind., for the lobby of the school's Music Instruction Building. Commenting on the piece for the Telegram & Gazette Knapp stated, "In this case, the main medium is not glass. The main medium is light, the glass gives me the ability to work with the light."
A history major on the Hill, Knapp credited the liberal arts education he received at Hamilton for providing the foundation for his success. Recommending the liberal arts to aspiring artists, he suggested that (an artist's) "Interests must reach beyond art into all aspects of life."
View a video clip about the lightpaintings of Stephen Knapp '69 from the Winter-Spring 2006 issue of the Alumni Review online.