Chambliss Lecture Provides Advice to New Hamilton Students
---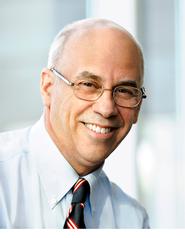 What is the best advice one can give to a new student at Hamilton College? This was the open-ended question posed by Dan Chambliss, the Eugene M. Tobin Distinguished Professor of Sociology at this year's final installment of the popular "Tell Me What You Know" lecture series hosted by the Emerson Literary Society.
Chambliss' lecture was based on the nine-year Mellon Foundation Assessment Project, a longitudinal study of student educational experiences at Hamilton.
The lecture came at an appropriate time in the school year as many on campus are already thinking ahead to next fall and about how to best welcome Hamilton's Class of 2017. The Office of Residential Life is finalizing the schedule for New Student Orientation and Adirondack Adventure and Outreach Adventure leaders will begin their training by the end of this month. Meanwhile, the student body and the college administration are engaging in a conversation on campus about long-term plans to improve the first-year experience over the next couple of years.
With all of this activity creating structure and programs for welcoming Hamilton's incoming class, Chambliss shifted the focus to content in his talk and to what might be the best advice to give Hamilton's newest students.
The preliminary suggestions for advice posed by Chambliss came from his own research that profiled a large group of Hamilton students in the early 2000s. By collecting information about choices these students made at Hamilton and by tracking the subsequent challenges and successes, Chambliss was able to identify some patterns and presented his conclusions to those in attendance with a short list of suggestions.
Perhaps the largest category of advice was for new students to find a way to expose themselves to consistent social situations and large groups of new people. This, Chambliss stressed, might be terrifying for some, but ultimately is the best way to establish a network of support. In reality, he admitted, his data suggests students only need to have close relationships with two to three peers and one to two faculty members to be happy; however, developing a wider network is an important step to increased enjoyment of the College experience.
Chambliss then highlighted academics. Among his suggestions were to not choose a major too quickly, to be wary of double majoring without a significant reason, to pick professors with good reputations, and to study abroad if given the opportunity. He advised that students keep an open mind and not close themselves off to opportunities too soon.
After his talk Chambliss opened the floor for suggestions and discussion. Among other topics, attendees advised incoming students to find an on-campus job, to make a conscious effort for diversity in their social network and to not be afraid of choosing social activities like group video games over homework. Chambliss stressed that although his general advice is informed by research data, every student is different and that there are multiple paths to happiness and success.
Looking ahead to August, the Class of 2017 should feel comforted in knowing that they are going to join a campus community that is putting a lot of time and thought into extending a warm welcome.