Please Edit to add slideshow images
By Carrie Z. Kennedy '90 and Alexandra Orlov '13
Gone are the days of mandatory chapel. Today's students have options for exploring the religious and spiritual aspects of their lives, including a support system whose mission, as described by Newman Chaplain John Croghan, is to "help kids bounce this important information around and ask, 'OK, how does this fit me?'" More...

By Bret Turner '13
As a first-year student, Bret Turner '13 set out to meet all of Hamilton's professors. His endeavor made him more than one of the most recognized faces on campus; it led to a collection of insights that he'll remember for life. More...

By Allison Eck '12
As the liberal arts tradition faces a new set of economic, philosophical and technological challenges, Hamilton remains true to its fundamental values and purpose while arming students with the skills they'll need to succeed after graduation. More...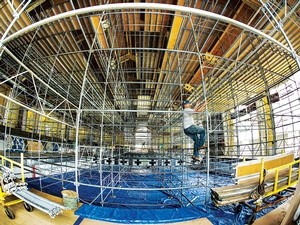 photo: Nancy L. Ford
A MAZE OF SCAFFOLDING envelops an empty Bristol Pool in the midst of a summer construction project to install new lighting. The new fixtures will hang over the pool's deck, rather than the water itself, in order to make replacing bulbs safer. Project coordinator Frank Marsicane, senior associate director of Physical Plant, says the new lights are more energy efficient; they will feature two levels — bright for official events and dimmer cast for everyday use.