Arbor Day 2015
On April 2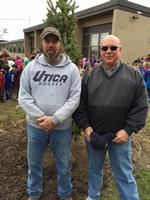 7, 2015 the Hamilton College Arboretum and Clinton Elementary school celebrated Arbor Day. Two trees were dedicated - a Japanese lilac tree in honor of Lesley Urgo and a spruce tree in honor of Terry Hawkridge and Chris Lewis (shown here). Mrs. Urgo began the coordinated program in 2007. Mr. Hawkridge was former director of the Arboretum and Mr. Lewis is the director of the CCS physical plant.
Each year since 2007 a spruce tree has been donated to the school by the Arboretum. To date nine spruce trees have been given to form a "spruce row" behind the elementary school. These provide a nice wind and shade break for the building. The lilac will provide color and fragrance!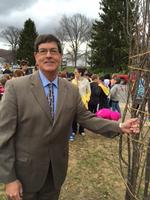 The school hosted a planting ceremony complete with two songs by the students and chorus. The dedications were given by Ann Smallen, volunteer on the Arboretum Committee and Steve Bellona, Director, Hamilton College Physical Plant.
At right - Principal Steve Marcus with Japanese Lilac planted in honor of Lesley Urgo