Zarella '12 Dives Into NJ Park Water Body Study
---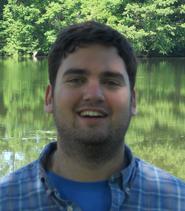 Park systems can provide miniature retreats of sandy beaches and lush lawns. The relaxing purpose of parks and recreational areas makes it easy to forget the hard work that goes into maintaining these places. In fact, park system employees dedicate a lot of time and energy into making parks beautiful, clean and functional. As an intern for the Monmouth County Park System in New Jersey, Paul Zarella '12 is working with the acquisition and design department which provides land preservation and planning services through land acquisition, resource-sensitive design and restoration. His internship is supported by the Jeffery Fund through the Career Center.
Zarella will work specifically with the park system's many lakes, ponds and streams. He will conduct surveys of these bodies of water using GIS, or Geographic Information System, and GPS technology.
His findings will be used for data collection, analysis and mapping. These surveys will include bathymetric studies, measuring water depth, and benthic studies, exploring the lowest layer of a body of water, as well as physical and chemical examinations of the water. More specifically he is dealing with lake bottom contours and bottom sediment type. Furthermore, Zarella will evaluate water quality and relate it to parameters such as watershed conditions and storm water management. His efforts will be used to develop lake management and restoration plans as well as best management practices for park lakes and other projects.
The Monmouth County Park System was founded in 1960 by the Board of Chosen Freeholders to preserve the county's public recreational areas. Since its founding, the system has expanded to 39 sites totaling more than 15,000 acres. These areas include parks, playgrounds, beaches, gardens, golf courses, forests, wetlands and undeveloped areas. In addition to preservation and development, the park system provides thousands of activities and programs throughout the year for people of all different ages and interests. Zarella will work with the Requisition and Design Department, which provides land preservation and planning services through land acquisition, resource-sensitive design and restoration.
The recreational areas of Monmouth County hold personal importance to Zarella, as he frequently visited these parks and beaches throughout his childhood. His own experiences with the Monmouth Country Park System have opened his eyes to the value of maintaining and expanding these areas. Zarella explains that parks are especially important now, considering the increasing cultural dependency on technology. He still enjoys outdoor activities such as fishing, hiking and boating, and he hopes to ensure that people will continue to enjoy the park system in the same ways he has.
In addition to the personal attachment Zarella has for his county's parks, he looks forward to applying his geosciences studies during his work for the park system. He explains, "I decided to become a geosciences major because I want to take part in fulfilling, challenging work outdoors and I want to benefit my community."
His internship provides him with a direct, practical application of the skills he learned in his geosciences courses. This position also relates to his career goals. After graduating, Zarella hopes to enter the environmental consulting field, and his work with the Monmouth County Park System will grant him valuable experience in field sampling and project management.
Parks are more than green lawns and blue lakes. They provide an important resource, and Zarella's efforts will help ensure that his county's park system continues running as smoothly as possible. After all, new technological gadgets may make life easier and provide entertainment, but at the end of the day everybody needs a place to disconnect.
Paul Zarella is a graduate of the Marine Academy of Science and Technology in Sandy Hook, N.J.