Writing Center Tutor Olivia Valcarce '15 Hones Skills in Literary Agency Internship
---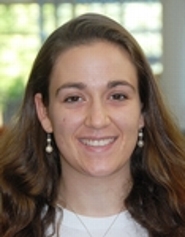 Hamilton emphasizes its students' ability to write and edit effectively, and this summer Olivia Valcarce '15 is taking advantage of those skills through an internship at Writers House Literary Agency. Valcarce, a Writing Center tutor on campus, is receiving financial support from the Joseph F. Anderson '44 Internship Fund, administered through Hamilton's Career Center, to pursue a long-term career interest in editing.
Literary agencies represent authors throughout their careers, helping to perfect their manuscripts and negotiate contracts with publishers. Writers House, in New York City, is one of the biggest and most well-known literary agencies in the country. It represents authors such as John Green, Sarah Dessen, Stephenie Meyer, Christopher Paolini, Andrew Clements, Nora Roberts, Neil Gaiman and Ken Follett.
At Writers House, Valcarce is interning with agent Brianne Johnson. She explained that because "agents can choose to represent pretty much whatever they enjoy reading," Johnson works with a variety of genres ranging from picture books to middle grade to young adult to adult. Valcarce feels that she and Johnson are a good match for working together, stating, "Bri and I are a good fit, as my favorite level is young adult and we have similar tastes, so I've been having a lot of fun working on manuscripts with her."
Valcarce's primary work consists of reading manuscripts and writing reader's reports, in which she evaluates new works and makes editorial suggestions. Valcarce explained that she reads some manuscripts by authors that Johnson already represents. She said that for these, "we are working to get the novels ready to submit to publishers. I write reports conveying my editorial ideas for the piece." For new hopeful authors, Valcarce noted, "I lend my opinion about whether they're good enough for [Johnson] to look at." By evaluating new manuscripts, she helps Johnson build her client list. Valcarce's work, therefore, not only gives her hands-on experience with editing, but will have a significant impact for new authors and the literary agency.
Valcarce found the internship through the help of a Hamilton friend, Lauren Magaziner '12. Magaziner, who was also a Writing Center tutor, completed the same internship in the summer of 2011 and was able to recommend Valcarce to Writers House. Valcarce highlighted the importance of the help, commenting, "I applied to almost 20 internships total and only heard from two others; the personal connection was invaluable."
Valcarce hopes that her internship with Writers House may lead her into a career, explaining that she's "considered a career in editing for a long time." Through her work as a Writing Center tutor and as a creative writing minor, she's found that she thoroughly enjoys peer editing. Although she may seek some experience with other positions in the editing industry, Valcarce feels that working as an agent matches her interests. She explained, "Agenting really appeals to me because agents work closely with authors usually long term, and can represent a diverse list of whatever they like to read."
She's found that her work at Writers House is providing her with the practical knowledge of the industry that would be very helpful in moving into a career. She remarked, "My internship with Writers House is teaching me how to complete an assistant's tasks at an agency, as well as how the House works day to day, which includes working with contracts and accounting and permissions and other less glamorous tasks." She also emphasized the importance of having contacts within the industry, which her internship is allowing her to build. With a clear talent for editing, it seems that Valcarce will be able to build her experience at Writers House into a successful and interesting career.

Valcarce is a graduate of Wachusett Regional High School in Holden, Mass.