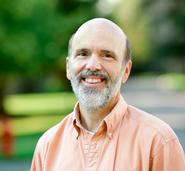 Would Jefferson Have Opposed Thanksgiving?
Ragosta Addresses Founding Father's Views
By Vige Barrie
Posted November 19, 2012
Visiting Assistant Professor of History John Ragosta pondered the question of whether President Thomas Jefferson would have opposed the official Thanksgiving holiday in an invited column on the University of Virginia Thoughts from the Lawn blog. In the Nov. 15 article titled "A Thankful Thomas Jefferson," he wrote, "Jefferson adamantly opposed proposals that he issue a proclamation for a day of fasting and prayer during a time of national crisis or any other proposal for an official call to prayer." Ragosta is the author of the forthcoming book Religious Freedom: Jefferson's Legacy, America's Creed.
Ragosta reflected that "in the modern era, the holiday has lost much of its religious connotation – commercialism and consumption (Black Friday and over-indulgence) being the real object of devotion. Still, there is a lingering religiosity to the event. In fact, President Obama's Thanksgiving speech in 2011 was heavily criticized in some circles for not being adequately focused on God."
Ragosta closed with this possibility: "Perhaps Jefferson would distinguish between a call to fasting and prayer (which he emphatically rejected in his official capacity) and a general call to thanksgiving – giving thanks to whomever or whatever you believe appropriate for the many blessings that we receive individually and as a nation. I certainly hope so."