Women's volleyball splits pair of matches in home tournament
---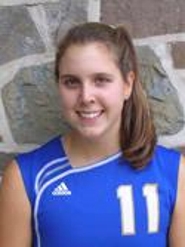 Hamilton College split a pair of matches on the opening day of the Continental Classic tournament with a victory against Anna Maria College and a loss to Messiah College at Margaret Bundy Scott Field House on Oct. 23.

Hamilton (5-24 overall) swept Anna Maria in three sets (25-6, 25-13, 25-7), and fell to Messiah by scores of 25-14, 25-14 and 25-22.
In the win over Anna Maria (6-17), Ally Martella '13 tied a season high with 12 kills and added 11 digs. Cecelie Pikus '13 was credited with 30 assists and Liz Reid '11 chipped in two blocks. Rachel Irizarry '12 tied a career high with five aces and had nine digs.

Hamilton jumped out to a 10-3 lead in the first set and cruised to an easy win. The Continentals scored the first five points of the second and third sets and never trailed in either. Martella clinched the victory with her third ace on match point.

In the match against Messiah (13-12), Amanda Cohen '13 paced Hamilton with nine kills. Pikus passed out 17 assists and Irizarry served two aces. Martella led all players with a season-high 12 digs and added two aces.
The Falcons held a slim 13-12 lead in the first set in what started out as a close match. However, Messiah scored three straight points for a 16-12 advantage and cruised from there. In the second set, the Falcons recorded the first three points and never trailed. Hamilton tied the score at 3-3, but Messiah notched the next point and went on to the win. The Continentals enjoyed a 12-6 cushion in the final set, but the Falcons came back to grab a 16-15 lead. Hamilton went back in front, 19-18, only to give up three straight points before Messiah closed out the three-point victory.

Hamilton hosts Medaille College at 11 a.m. and St. Lawrence University at 3 p.m. on the final day of the tournament on Saturday, Oct. 24.