Women's volleyball picks up first win of 2013
---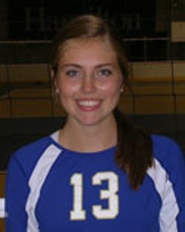 Hamilton College split a pair of matches on the second and final day of the University of Rochester Invitational on Sept. 7.

Hamilton (1-3 overall) swept SUNY Oswego in three sets before SUNY New Paltz won three straight against the Continentals. Brenna Corrigan '14 made the all-tournament team for Hamilton.

The scores against Oswego (1-5) were 25-16, 27-25 and 25-17. Corrigan led the way for Hamilton with 11 kills and 15 digs. Erin Casey '15 hammered eight kills and Ivanka Temnycky '17 added seven.

Sarah Pfund '14 passed out 26 assists and was credited with 11 digs, and Jamie Granskie '16 served three aces. Jessica Weston '17 and Blaire Frett '16 led the defense at the net with six and five blocks, respectively. The Continentals finished with 12 team blocks, which helped limit the Lakers to a .018 attack percentage.

New Paltz (4-3) prevailed by scores of 25-17, 25-14 and 25-17. Corrigan topped Hamilton with five kills and Pfund handed out 18 assists. Anna Brown '15 paced the defense with 17 digs and Emily Rosen '15 had 11. Frett chipped in five more blocks and Temnycky posted three. New Paltz owned a .304 attack percentage with just 10 errors for the match.

Hamilton is off until Saturday, Sept. 14, when the Continentals play two matches at Swarthmore College's Garnet Classic.