Women's volleyball drops pair at Rochester Invite
---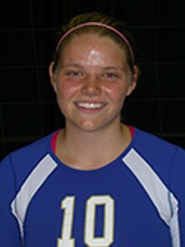 Hamilton College lost a pair of matches at the Continentals' season-opening University of Rochester Invitational on Sept. 6.

Hamilton (0-2 overall) was edged in five sets by St. John Fisher College on Friday afternoon and Rochester prevailed in four sets in the nightcap. The Continentals take on SUNY Oswego and SUNY New Paltz on Saturday, Sept. 7.

St. John Fisher (3-2) came from behind for its victory by scores of 25-18, 21-25, 24-26, 25-23 and 16-14. Already trailing two sets to one, the Cardinals rallied in the fourth and fifth sets and stunned Hamilton.

Jessica Weston '17 enjoyed a fantastic first match with 11 kills and just one attack error in 21 total attempts for a .476 attack percentage. Brenna Corrigan '14 and Courtney Somerville '16 chipped in nine and seven kills respectively. Emma Lonadier '15 passed out 28 assists and Blaire Frett '16 was credited with four blocks. Anna Brown '15 ended up with 16 digs and Emily Rosen '15 added 14.

The Continentals led 14-12 in the fifth and deciding set but an attack error, a bad set and two kills by Fisher's Rachael Kline ended the match. In the first set, the score was tied 8-8 when the Cardinals went on a 10-1 run. Hamilton held a slim 22-21 advantage in the second set and kills by Somerville, Weston and Ivanka Temnycky '17 closed it out.

The Continentals trailed 17-10 in the third set before they rallied to tie the score at 23-23. After a point for Fisher, a Corrigan kill, a bad set by the Cardinals and a kill by Weston gave Hamilton a two sets to one lead. The Continentals nearly won it in the fourth set as they led 22-19 at one point, but three attack errors helped Fisher rally.

Rochester (2-4) posted its win by scores of 25-21, 25-14, 17-25 and 25-9. Jamie Granskie '16 racked up a career-high 12 kills and Frett hammered 10. Lonadier handed out 29 assists, Weston recorded three blocks, Brown boasted 36 digs and Rosen had 10.