Women's track & field competes in Ithaca Invitational
---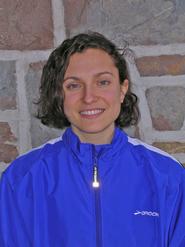 Rebecca Yaguda '09 won the pole vault as the Hamilton College women's track & field team opened the outdoor season with the non-team scoring Ithaca College Invitational at Butterfield Stadium on March 28.
Yaguda cleared 3.10 meters to finish in a tie for first place. She also finished sixth in the 400-meter hurdles as she crossed the finish line in 1:17.03. Sarah Boak '12 placed third in the 400 hurdles with a time of 1:11.47 in her first meet with Hamilton.
Along with Yaguda, Akilah Bond '09 and Lauren Peters-Collaer '11 led the way in field events for the Continentals. Bond recorded a triple jump of 11.37 meters, which was good for second place. Bond's mark met a provisional standard for the NCAA Division III championships. Peters-Collaer cleared 1.52 meters to finish in a tie for second in the high jump.
The Continentals were successful in the sprints. Hamilton athletes racked up three top-five performances in the 200-meter dash and another in the 100-meter dash.
Reisa Asimovic '11 was second in the 100 with a time of 13.64 seconds. Asimovic's time in the prelims was 13.54 seconds. Liz Wahl '10 led the way in the 200, finishing second at 27.29 seconds. Victoria Grieves '12 edged out teammate Jackie Wald '12 for fourth place with a time of 28.87 seconds. Wald was right behind at 29.27.
Kristen Selden '09 took fourth place in the 100-meter hurdles with a time of 16.87 seconds. Selden's time in the prelims was even better at 16.70 seconds. Two Continentals finished in the top 10 of the 1,500-meter run. Meredith Fitzpatrick '11 took sixth place, but was the second Division III finisher, with a time of 4:59.14. Sarah Caney '09 was 10th at 5:15.57.
Laurie Horesta '12 and Kate Greenough '09 finished in the top 10 in the javelin. Horesta's throw of 29.48 meters was seventh-best, and Greenough's mark of 28.19 meters put her in eighth place.
Hamilton hosts the Continental Invitational on Saturday, April 4, at Pritchard Track.