Women's tennis completes perfect Florida trip
---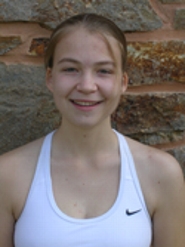 Hamilton College ran its win streak to eight matches with non-conference victories against Calvin College and Otterbein University by identical 6-3 scores in Orlando, Fla., on March 22.

Hamilton (8-1 overall) wrapped up its Florida trip with a perfect 5-0 record. The Continentals are off until a NESCAC home match against Amherst College on Saturday, March 30.

The match against Calvin (2-8) was suspended due to rain on Wednesday and completed on Friday. Bella Schoning '16 won both her singles and doubles matches. Schoning was a 6-3, 6-0 winner at second flight singles, and paired up with Mira Khanna '15 for an 8-1 victory at second flight doubles.

Liz Detwiler '15 lost just one game at third flight singles, and Carrie Uhlein '15 cruised to a 6-1, 6-1 win at fourth singles. Rachel Friedman '15 picked up a 6-4, 6-4 triumph at fifth singles. Aislinn Shea '13 rallied for a 6-4, 4-6, (10-8) victory at sixth flight singles.

Against Otterbein (8-3), Schoning led the way again with singles and doubles wins. She outlasted her opponent 7-6 (2), 6-2 at second singles, and teamed with Khanna for an 8-3 win at second doubles.

Detwiler breezed to a 6-2, 6-1 victory at third singles, and Uhlein bounced back for a 3-6, 6-4, 6-0 win at fourth singles. Friedman bested her opponent 6-4, 4-6, 6-2 at fifth singles. Shea eased her way to another victory at sixth flight after a tough first set, 7-6 (3), 6-2.