Women's ice hockey loses heartbreaker in overtime
---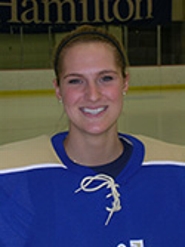 Trinity College's Abby Ostrom '14 scored with 41.4 seconds remaining in overtime and lifted the Bantams to a 1-0 NESCAC win against Hamilton College at Hamilton's Russell Sage Rink on Jan. 18.

The play started when Trinity (7-4-3 overall, 2-3-2 NESCAC) fired a shot from the right faceoff circle. Cheeky Herr '16 collected the long rebound inside the left faceoff circle and slid a pass to a wide open Ostrom, who skated down the slot and scored her fourth goal. The Bantams notched their fourth straight win this season, and are 13-0-1 in their last 14 games against Hamilton.

Alexa Pujol '15 stopped all 38 shots she faced for her second shutout this season. Pujol lowered her goals against average to 1.57 and improved her save percentage to .945.

Becca Hazlett '16 made 29 saves for the Continentals. Hazlett's goals against averaged dipped to 1.84 and she brought her save percentage up to .916.

Hamilton (9-4-0, 4-3) controlled the puck for most of the first period and outshot the Bantams, 15-3. The Continentals had three power-play opportunities in the first period alone.

Trinity had the best chances to score in the second period. With seven minutes left, the Bantams fired a shot from the top of the right faceoff circle and Hazlett made the save. Lucy Robinson '15 gathered the rebound and put a shot on goal, but Hazlett turned it away again. While Hamilton was making a line change, Trinity got loose for a 3-on-1, but the shot sailed wide and no damage was done.

The Continentals called a timeout with 3:25 left in the third period. The Bantams went on the power play with 1:53 remaining when Nikki Haskins '14 was sent to the penalty box for tripping. Hamilton's defense stepped up once again and killed its second penalty of the period to force overtime.

Just 26 seconds into overtime, Abby Runyon '13 had an open look from the right faceoff circle, but was denied by Pujol. Hannah Jaiven '14 fired a slap shot from the blue line just seconds later, but Pujol turned it away as well.

The Continentals held a 38-30 shot advantage, and both teams were 0-for-3 on the power play. The two teams play again in Clinton on Saturday, Jan. 19.