Women's basketball wins at Middlebury on last-second shot
---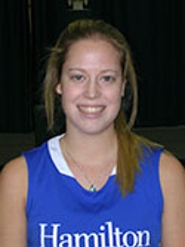 Hamilton College's Samantha Graber '16 made the game-winning layup with 0.3 seconds left and lifted the Continentals to a 56-55 NESCAC win over Middlebury College at Middlebury's Pepin Gym on Jan. 18.

The Continentals (8-8 overall, 1-4 NESCAC) scored five points in the final 3 seconds and rallied from an eight-point deficit in the last 1:19. Madie Harlem '13 banked in a deep 3-pointer from the left wing with 2.7 seconds left to make it 55-54. On the ensuing inbounds play, Kim Goidell '13 knocked the ball away to Graber, who made an uncontested layup for the win. Hamilton has won six of the last seven meetings with the Panthers.

Harlem tallied a season-high 27 points and became the ninth player in team history to reach 1,000 for her career. Harlem, who has 1,011 points, was 12 of 20 from the field and added three steals. Eliza Howe '13 contributed 16 points, Graber grabbed six rebounds and Goidell dished out a game-high four assists to go with three steals.

Laura Lowry led Middlebury with 14 points. Scarlett Kirk scored 11, Tracy Borsinger netted 10 and both pulled down six boards.

Neither team led by more than three points until Rachel Crews made a free throw to put Middlebury up 11-7 with 12:28 left in the half. Harlem scored Hamilton's next seven points and the Continentals got within 15-14.

Middlebury (8-8, 2-3) built its lead back up to 22-17. The Continentals came back and tied the score at 22-22 on free throws by Adrianna Pulford '15 and Goidell, and a layup by Harlem. Kirk converted two free throws for the Panthers with 0.1 seconds left, and the teams went to the locker room in a 26-26 tie.

Harlem led all scorers with 13 points in the opening half. The Panthers shot 50 percent but committed 19 turnovers in the first 20 minutes.

Harlem scored the first points of the second half to give Hamilton a 28-26 lead, but Middlebury used a 10-0 run and seized a 36-28 advantage. Three-point plays by Kirk and Borsinger and a pair of layups by Sarah Marcus gave the Panthers their eight-point edge. The Continentals clawed back to within 40-37 after seven straight points by Harlem with 4:44 left to play.

The Panthers built their lead back up to eight points at 52-44 with 1:19 remaining. A free throw and a trifecta by Howe brought Hamilton to within four at 52-48 with 1:07 left. Howe drained another shot from beyond the arc to make it 53-51 with 38 seconds to go. Kirk made two shots from the charity stripe with 10 seconds remaining to give Middlebury a four-point cushion. The Panthers were a perfect 13-for-13 at the line in the second half, and shot 94 percent (16-17) for the evening.

The Continentals shot 36.2 percent (21-58) from the floor, including 40 percent (6-15) from long range. The Panthers shot 42.9 percent (18-42) from the field, including 3 of 12 from 3-point range. Hamilton's nine steals helped cause 26 turnovers, which led to 21 points. Middlebury held a slight 33-30 edge in rebounds.

The Continentals return home for another NESCAC game against Williams College on Sunday, Jan. 20.