Wertheim '14 Interns with Industry's Largest Music Producer
---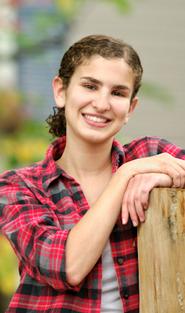 In the current job market, summer internships are becoming harder and harder to come by, but this did not stop Bonnie Wertheim '14 from securing two internships this summer in the competitive field of entertainment media. Wertheim is spending the summer splitting her time between VICE Media, in Williamsburg, Brooklyn, and Universal Republic Records, in New York City.
Wertheim started her summer internship search with the desire to write and to work closely with the media. She applied to a significant number of magazine editorial internships, but wanting for any solid leads, she expanded her search to include more nontraditional and web-based media outlets. Wertheim had attended and been highly impressed by an event put on by VICE Media's The Creators Project in October, 2011, so when she came across an internship at that very division of VICE Media, she knew she had to apply.
At VICE Media's The Creators Project, or TCP, Wertheim works as an editorial intern, which is just the position she hoped to find at the beginning of her internship search. TCP is a global arts and technology initiative set up by VICE Media to promote and support artists who incorporate technology into their music. TCP works with a broad spectrum of artists, ranging from up and coming independent artists to big names such as Florence and the Machine.
As an editorial intern, Wertheim's primary responsibility is working with TCP's blog by researching RSS feeds to find stories relevant to TCP's mission. Regarding this duty, Wertheim says "I've written something for TCP's blog every day I've been in the office. Because writing is what I wanted to do this summer, that's been the coolest [aspect], hands down." As an editorial intern, Wertheim also transcribes artist interviews and maintains contact with up-and-coming TCP artists.

Wertheim's integration of her love of music and writing is also present at her internship at Universal Republic Records, or UR. UR is a subsidiary of the Universal Music Group, the single largest music producer in the industry. Universal Music Group's industry leading market share includes such big names as Nicki Minaj, Taylor Swift and the late Amy Winehouse. Wertheim applied to UR on a whim, and thanks to the strong writing and communication background she obtained at Hamilton, she now finds herself interning at one of the music industry's biggest names.
Wertheim works as a publicity intern at UR, a position she never previously considered working in, but thanks to this internship, she is now considering a future career in the field. As a publicity intern, she scans newspapers and magazines for mention of UR's artists, drafts press releases on those artists, and organizes artist's press files.
Wertheim's internships have both inspired her and prepared her for her post-Hamilton career path. Speaking of her coworkers, many of whom are just a year or so out of college, she says "the people at VICE are passionate about the same things I'm passionate about: strong writing, journalism that dives into the action and topics that keep audiences coming back to read more." Wertheim's internship experience is teaching her skills in HTML coding and editorial stylistics, both of which are helping her to prepare for a future career in publishing. Best of all, her coworkers treat her like a "real" employee instead of a "coffee-fetcher," and that, according to Wertheim, "is all any intern can really hope for."
Because of the high commuting cost associated with New York City internships, Wertheim's incredible opportunities this summer would not be possible without this assistance she has received from the Rice Summer Internship Support Fund through the Maurice Horowitch Career Center.

Bonnie Wertheim is a graduate of Millburn High School (New Jersey).