Nourishing USA Aims to Feed, Educate, Advocate
---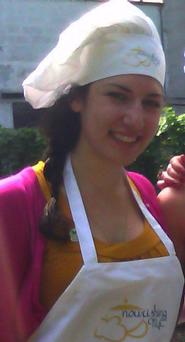 New York City is known as a bright, loud "city that never sleeps." Yet despite the glamorous side of the city, poverty-stricken communities such as East Harlem face issues of food scarcity and poor nutrition. Emma Taylor '13 is spending her summer as the head intern, or lead community advocate, for Nourishing USA, helping to alleviate nutritional problems in some of New York's poorest communities. Her internship is supported by the Couper Fund through the Career Center.
Nourishing USA is a nonprofit organization that provides outreach programs in Harlem and the Bronx. The organization employs a variety of programs to "feed, educate, and advocate" in support of its goal of "Nutrition for All." Nourishing USA works toward this goal through produce giveaways, a volunteer-run garden, and educational workshops on low-cost nutritional eating. Throughout the year the organization also features seasonal programs, such as turkey giveaways on Thanksgiving. Founded in 2008, the organization is still young and relatively small, allowing it to forge close bonds with the communities in which it works.
Taylor is interested in pursuing nonprofit work after Hamilton, and she was drawn to Nourishing USA for its hands-on approach and overall closeness with its communities. Taylor describes the organization's practices as "extremely direct" in that its employees actually grow, bag and hand out fresh food that disadvantaged individuals will later prepare and eat. The program also provides recipe demonstrations rather than simply distributing instructions, and is an influential force in the community.
As head intern, Taylor's responsibilities "span the entire scope of Nourishing USA" and she has gotten a taste for many different aspects of the organization. At the beginning of the summer, Taylor helped with planning a silent auction and gala to support Nourishing USA's efforts. As lead community advocate Taylor runs the organization's produce garden on 124th street in Harlem. After harvesting, the vegetables from this garden are distributed directly to individuals on the surrounding streets.
Taylor, a sociology major, also corresponds with partners, volunteers and sponsors, coordinates volunteers and reviews other interns' work. Despite these organizational and administrative responsibilities, Taylor still has the opportunity to work closely with the public; she and the other interns assist with providing a nutrition cooking class for children ages 3-14. The interns are also developing curriculum and recipes for such classes in the future.
Taylor has found that small organizations such as Nourishing USA require flexibility from their employees, and that one's responsibilities can easily range from working with crops in a garden to encouraging a teenager to eat mushrooms for the first time. Taylor values this challenging, yet rewarding, atmosphere as a realistic and educational portrayal of nonprofit work.
Individuals who face food scarcity and hunger might need support in more ways than simple food handouts. Nourishing USA helps communities in need by teaching individuals how to shop effectively, maximize nutritional gain and prepare food in an optimal manner. Taylor is helping to support this worthy cause while exploring her own career goals and gaining valuable experience in the nonprofit sector.
Emma Taylor is a graduate of Hopkins School in New Haven, Conn.