Susan Hartman K'74 Displays Work in Solace on the Line Exhibition
---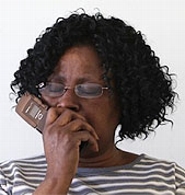 The Bronx Museum celebrates the opening of Solace on the Line, a multi-media exhibit, with text by Susan Hartman '74, and photos and video by Todd Heisler, based on their New York Times photo essay. The Exhibition opens on Apr. 19 from 7:00-9:00 pm and will run from Apr. 19-Sept. 8, 2013.

Hartman has written cover stories and profiles from places as different as Northern Ireland and Queens, Las Vegas, and Brooklyn for The New York Times, The Christian Science Monitor, and Newsday, often following her subjects for months. She is the author of two books of poetry, Dumb Show and El Abogado, and a chapbook, Satyr. Her poems have appeared in Carolina Quarterly, Hanging Loose, The Black Warrior Review, The Florida Review, and Sun Dog, among other literary magazines.
Hartman teaches journalism and nonfiction at New York University, and is also on the faculty of the International Center of Photography (ICP) in Manhattan.
Heisler, a staff photograph for The New York Times, has twice won the Pulitzer Prize for photography.
The Bronx Museum of the Arts receives ongoing general operating support from the New York City Department of Cultural Affairs with the cooperation of the Bronx Borough President and the Bronx Delegation of the New York City Council; Bloomberg Philanthropies; the Lambent Foundation; New York State Council on the Arts with the support of Governor Andrew Cuomo and the New York State Legislature; Bronx Delegation of the New York State Assembly; The Scherman Foundation;the Lily Auchincloss Foundation; The May and Samuel Rudin Family Foundation, Inc.; the Gilbert MacKay Foundation; The Liman Foundation; The Cowles Charitable Trust; and individuals.