Students Search For Cure for Devastating Freshwater Fish Disease, Ich
---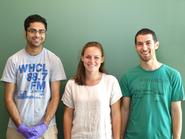 Hamilton's student researchers are making great strides in the expansive Ich Genome Project, a multi-institutional effort to develop preventative and combative treatments for Ichthyophthirius multifiliis (Ich), also known as white spot disease in fish. Ravi Jariwala '13 and Rachel Green '14 are working under the direction of Associate Professor of Biology Wei-Jen Chang and recent graduate Matthew Therkelsen '12 to identify single nucleotide polymorphisms (SNP) genetic markers. Professor Chang is directing a number of student research groups and is part of a faculty collaborative project involving the Ich genome and Therkelsen's senior thesis focused on the molecular characterization of Ich and his discovery of related Ich genes.
White spot disease is a parasitic disease that can infect and kill entire populations of freshwater fish in habitats ranging from at-home aquariums to freshwater fisheries. While Ich is treatable in aquarium settings by regulating temperature, salinity and chemical content, little can be done to halt its spread in larger bodies of water, where Ich can even threaten food supplies.
The group's project focused on collecting and analyzing up to two dozen SNP markers in order to gain a better understanding of genetic diversity as it concerns the genome project. By determining the interrelatedness of various strains of Ich, researchers will be better able to devise a cure or preventative treatment for the disease.
In order to collect the necessary SNPs, Jariwala and Green utilized an enzyme digestion process. The two cut DNA strands at certain SNP sites and then amplified their DNA using a process called Polymerase chain reaction (PCR), whereby DNA strands are separated to form a template which is then replicated. While much of Jariwala and Green's work is hands-on and occurs in a "wet lab," the two also use various computer programs to examine specific genome locations before conducting actual experiments. According to Green, learning techniques that utilize this combination of lab and computer work is one of the most rewarding aspects of summer research.

Jariwala believes that, "the project went well as we had a successful SNP site in which we were able to differentiate the NY4 strand of Ich from the NY7 and G5 strands." Green and Jariwala emphasized that despite their successes, there is "still more work to be done to find other SNP site between these three populations."
Green has been interested in biology since high school, where she had the opportunity to complete a four semester research program on tortoise DNA at the Evolutionary Biology Laboratory. As a biology concentrator with a math minor, Green focuses her education on bringing together microbiology and genetics. Green enjoys rock climbing and hiking in the Adirondacks. Jariwala is also a biology concentrator and an avid blues guitarist.
Jariwala is a graduate of the Indian Springs School (Ala.) and Green is a graduate of Choate Rosemary Hall (Conn.)