Students Research Voter Turnout Among Kirkland Residents
---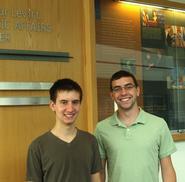 Despite being the world's oldest continuous democracy, the United States has one of the lowest voter turnout rates in the developed world. Government and sociology concentrator Peter Adelfio '13 and government concentrator Benjamin Anderson '14 have been awarded a Levitt Group Research Grant to study this paradox by conducting a controlled experiment on methods of increasing voter turnout. The two are being advised by James S. Sherman Professor of Government Philip Klinkner.
The first step of Adelfio and Anderson's project was to conduct research on the various field experiment methods available for analyzing voter behavior. They looked at options including phone banking, door-to-door canvassing and mass mailing. They also researched the effectiveness of message content, including the use of appeals to efficacy and calls to civic duty.
The two found that mass mailing was the least effective method of encouraging voting (with only a 50 percent success rate) because of its impersonal nature, but that canvassing and phone banking would require too large a team of volunteers to reach a large sample of voters. They also found that nonpartisan calls to vote tended to be more effective than partisan ones.
Given their limited resources, Adelfio and Anderson decided to conduct a mass mailing field experiment using calls to civic duty and efficacy with a sample of Republican senate primary voters. After jumping through the bureaucratic hoops of local government, they secured a list of the approximately 2,200 registered Republican voters in the town of Kirkland.
The two then split the list into a random sample of 700 voters for an experimental group and another 1,500 voters for a control group. The experimental group was then divided again into two groups of 350 voters each. The first group was encouraged to vote with letters presenting a message of efficacy and while the second group was encouraged to vote with letters presenting a message of civic duty.
Adelfio and Anderson sent a total of four letters: a primary and follow-up letter to the efficacy group and a primary and follow up letter to the civic duty group. They noted that the process of stuffing, labeling and sealing the 1,400 envelopes took nearly two weeks alone. The message of the four letters was kept as nonpartisan as possible because of findings on previous voter turnout studies. After the June 26th New York Republican senate primary, the two students navigated further public information requests in order to obtain the primary voter list and then compiled their results.
Adelfio and Anderson found that both the recipients of the efficacy letters and the civic duty letters voted at a rate of nearly one third greater than their control group counterparts (letter recipients voted at an average rate of over 16 percent while non recipient voted at a rate of less than 13 percent). Even more impressively, the statistical significance of their results was 0.003, meaning that probability of their results being the product of chance is only three-tenths of one percent. The two noted that this value of statistical significance is far more precise than those found by most similar national studies. They attributed their greater success rate in part to the relatively high average age of Kirkland residents – studies have shown that older voters tend to be more responsive to calls to vote.
Adelfio plans to conduct a similar field experiment for the upcoming presidential election. He hopes to incorporate Kirkland and Hamilton College voters from both major political parties into his project. The results of that experiment will serve as the basis for his senior thesis.
Peter Adelfio is a graduate of Sidwell Friends School (Washington, D.C.) and Benjamin Anderson is a graduate of Exeter High School (N.H.)