Students Gain Experience Through Summer Internships
---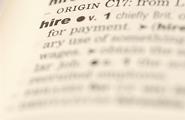 Throughout the summer the news page has featured stories about students who were awarded funding from Hamilton to pursue their career interests through research projects with faculty or in internships that were offered without pay. In an effort to gain experience in a field of interest, other Hamilton students pursued summer research and internships that were unfunded. Some are highlighted below. We invite other students to contribute their own stories which we will add to this article as we receive and edit them.
Miles Blackburn '13 interned in the Radioimmune Inorganic Chemistry section of the National Cancer Institute at the National Institutes of Health in Bethesda, Md.

Blackburn described his internship: "The lab I worked in focuses on design and bifunctionalization of chelating agents for alpha and beta emitting radionuclides for use in cancer diagnosis and therapy. I spent the summer synthesizing a new cyclic chelating agent for Zirconium-89 for use in PET (positron emission tomography) imaging that would hopefully be an improvement over the lone commercial agent that is currently used. I also synthesized a number of acyclic ligands for testing to see if the chelating agent could be further enhanced by changing the functional groups incorporated within the molecule." Blackburn learned of this opportunity through a relative who has worked at the NCI for a number of years.
Amelia Root '14 reports: "I was lucky enough to work with the Women's Committee of the Central Park Conservancy in New York this summer. Laura Hall, the vice president of the Women's Committee, is a Hamilton alum parent and I reached out to her through the Career Center.
The Women's Committee is a department that is dedicated to raising funds for different Central Park programs. I worked in the office doing general internship duties such as filing and mailings. I got to work closely with the wonderful women who work there and assist with special fundraising events, such as the Annual Family Party. I was also able to work in the park with volunteer groups. It was an amazing experience and I learned a lot from the Women's Committee. I am very grateful to the Career Center and to Laura Hall for providing such a great opportunity."
Kevin Alexander '14, a graduate of Utica Proctor High School, was the summer fellow for evaluation at The Community Foundation of Herkimer & Oneida Counties, Inc. Alexander evaluated grants recently made by the foundation. His work will allow the foundation to assess the impact of its grant-making and gain insight into its role as a resource for nonprofit organizations and the community.
Brian Infante '13 and Phil DiDonato '13 worked for former hockey team captain Doug Famigletti '94 who is the CIO at Griffin Asset Management.
DiDonato describes how their internship came about. "Doug actually reached out to Coach (Rob) Haberbusch and asked if anyone on the team would be interested in an internship opportunity at Griffin Asset Management. Brian and I immediately showed interest and had an informal interview with Doug during one of our road trips to Connecticut (Doug lives in New Canaan). Doug's offices are in the heart of midtown on Madison Avenue.

"Our day-to-day projects included researching various companies in Griffin's portfolios, making stock calls, and finally presenting our conclusions (buy or sell) to the team. We also conducted research on the performance of mutual fund performances by strategy. For example, we compiled comprehensive lists of all the mutual funds that execute a covered call strategy, compiled various performance indicators, and benchmarked our findings against Griffin's covered call strategy. These findings were meant to help Doug in his monthly newsletters to investors."
Lily Reszi Rothman '13 divided her time between doing A&R (Artists and Repertoire) at Warner Brothers Records, and marketing research at Warner Music Group, which gave her insight into both the creative/label and corporate sides of the company.

She describes her position: "A&R is an all-inclusive job position, as it combines aspects of marketing, management and production, all based around talent-scouting and a passion for music. On a day-to-day basis, I would look through iTunes charts for new and unsigned artists, and spend the majority of my time researching artists and labels and listening to music. I also went to several shows to see unsigned bands, and I reported back to my supervisors at both Warner Bros. Records and Sire Records, who are now following some of the artists I found.

"At Warner Music Group, I was part of the G.R.A.V.I.T.Y. team, (Group Research And Vital Information Through Youth). As one of six members of that team, she reached out to the 150 interns across the company to do research for executives. We would send out surveys and conduct focus groups to foster new and developing ideas for different departments throughout the company. During my time, we completed projects for executives in several departments, including Brand Partnerships, Media Relations, A&R, Business Development, Merchandising and Direct to Consumer.
"These focus groups would act as think tanks to give executives new ideas, or to give them the opinion of college-aged students, which is an important target market. We would then file a detailed summary report to show the executives concise results. We were mainly unsupervised, although we had fairly regular meetings with our supervisor, the VP of HR at Warner Music Group. The most successful project that this team has done was for Wiz Khalifa merchandise: They came up with the idea for Wiz Khalifa rolling papers, which became a big hit, and Wiz Khalifa proceeded to name his next album 'Rolling Papers,' after the product.

John Boudreau '14 spent his summer indulging his passion for history in two very different ways. He worked as a research intern for Christine Valosin, the curator of the Saratoga National Historical Park—site of the famous Revolutionary War battles—where he located and translated several French documents from the mid-1740s. In the 18th century, the Saratoga region was New York's northernmost border, and consequently a frequent target for French raids from Canada. Boudreau, who is a French minor, translated the documents to better understand the interactions between the two colonial groups and their native allies.

"It was thoroughly enjoyable work," he said. "The feeling of uncovering a document that scholars have neglected or forgotten about was intoxicating—it really was kind of an academic treasure hunt."

Boudreau also continued working with the Replica Ship Half Moon, a full-scale replica of the ship that Henry Hudson sailed up the river that now bears his name in 1609. The Half Moon is a non-profit organization that focuses on educating 7th grade students about Hudson's journey by inviting them to live on board the ship for a week to understand how Hudson and his crew operated.

On board, the students are prohibited from using cell phones or electronic devices, but Boudreau worked with the quintessential communication tool of our time: Facebook. In addition to serving as a senior crewmember on the ship itself, he also helped refine the organization's Facebook strategy by more thoroughly engaging the page's base demographic while soliciting for new members via promotional giveaways.

"It was interesting to interact with Facebook in a professional context rather than on a personal level," he said. "There are limitations to the platform, but it also provides a great outlet for advertising and is a great way to quickly spread information to a volunteer base."