Students Awarded Prizes, Scholarships at Class & Charter Day
---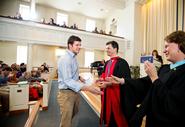 Academic achievement prizes, prize scholarships and other recognition of student accomplishments were awarded at Hamilton's 62nd annual Class & Charter Day convocation on Friday, May 4, in the Chapel. Among the top prizes, Susannah Parkin '13 was awarded the Milton F. Fillius Jr. /Joseph Drown Prize Scholarship, and Jacob Sheetz-Willard '12 was named the recipient of the James Soper Merrill Prize.
Parkin is a psychology major and Dean's List student from Arlington, Mass. A Hamilton Outing Club trip leader, at last year's Class & Charter Day she received the Paul S. Langa Prize Scholarship, given to the student who has demonstrated academic excellence along with outstanding determination, leadership and commitment in extracurricular activities.
The Milton F. Fillius, Jr. /Joseph Drown Prize Scholarship, established by the Joseph Drown Foundation, is awarded to a student completing the junior year who has been very successful academically, who has demonstrated outstanding leadership qualities while at Hamilton and who is likely to make a significant contribution to society in the future.
Sheetz-Willard is a Phi Beta Kappa history major from Bryn Mawr, Pa. He is a Writing Center tutor and was captain of Hamilton's 2011 football team. In 2010 he was the recipient of an Emerson Grant where he researched Pete Seeger's Clearwater movement.
The James Soper Merrill Prize is awarded to the member of the graduating class "who, in character and influence, has typified the highest ideals of the College." The winner is selected by the faculty and speaks at Commencement.

A total of 146 students won other prizes and scholarships for public speaking, writing and achievement in all academic disciplines.

This year's Class & Charter Day speaker was Julie Ross '84, president of the Alumni Association. Her remarks were titled "Reflections on Inspiration, Transformation and Hamilton at its Bicentennial." She recalled her days on the Hill and talked of being inspired by professors Jonathan Vaughan, Doug Weldon and Bob Simon. "These professors challenged me and made me step outside my comfort zone," she noted. Ross said the essential Hamilton experience and spirit remains unchanged, and she added that she hopes "it remains a place that inspires and transforms for those who call it home." [Watch Video]

An all-campus picnic followed the awards and HamTrek, the ninth annual campus triathlon took place with individuals and teams competing in swimming, biking and running. Class & Charter Day also featured a concert with Super Mash Bros, indie rock band Dr. Dog, and Downbeat Keys.