Student-athlete profile: Jimmy Alexis '13
---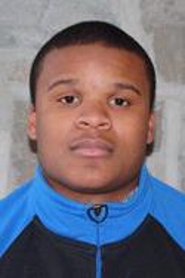 Jimmy Alexis '13 and the rest of the men's indoor track and field team host an invitational at Hamilton College's Margaret Bundy Scott Field House on Saturday, Feb. 9. Jimmy has been a member of both the indoor and outdoor teams since his freshman year. On Feb. 2 at the SUNY Brockport Invitational, Jimmy nearly broke the school-record height in the pole vault, and qualified for the 2013 Eastern College Athletic Conference Division III Championships, which will be held in New York City on March 1 and 2. He earned a spot on the New York State Collegiate Track Conference all-conference team for finishing in the top three of the pole vault at the 2011 championship meet.

Q: Tell us a little bit about where you grew up.

A: I was born in Miami and grew up in Jacksonville, Florida. It's a completely different environment there. First of all, it is way too cold in Clinton. My first winter on The Hill was brutal. I remember dragging my suitcase through the snow on my way home for the summer. Thank God, it hasn't been so bad since.

Also, family is a big deal back home. I miss our big family outings and gatherings that weren't secluded to my immediate family. We hosted celebrations for any occasion including birthdays, holidays, school accomplishments and taco night Wednesdays. Heck, anything we could come up with!

The last special thing about Jacksonville is that it is the biggest city per square foot in America (not including Alaskan cities). However, because of its size, Jacksonville is home to a great diversity of people. My ease of access to different cultures, races, ideologies, socioeconomic classes, etc., was an enriching experience and ultimately made me a well-rounded person.

Q: Did you play any other sports before you came to Hamilton?

A: For the past 15 years I have participated in a number of team sports. I have learned that sports are the best outlet for me to release my stress.

In elementary school I played basketball, soccer, baseball and tennis. In middle school I played football, basketball, soccer (for a season) and competed in track and field. In high school I ran cross country, played basketball for AAU, wrestled on the side for a local high school, was on the diving team (for a season) and ran track and field.

I plan to continue playing sports once I graduate, but not competitively this time around. However, I think cycling and golf are in my future.

Q: How did you get interested in track & field?

A: I was very big into basketball from a young age, and I used track as a ploy to stay in shape. Over time I became much better in track than basketball, so I did what was natural and switched my focus.

Q. Why the pole vault? It seems like it would be the most difficult event to master in track and field.

A. It was all about points. During my sophomore year of high school, the team needed points to defend our city, district and state titles. We had recently lost our best pole vaulter, so I knew where I had to step in. In the beginning, it was weird to run 800-meter repeats on the track, then go over to flip and jump around for an hour. However, as I progressed and learned the fundamentals of the sport, it became natural.

And yes, I was petrified! I still have my moments of fear, especially on an off day or when I am moving to heavier sticks.

Q: What attracted you to Hamilton College and the track & field program?

A: Jerry Dirvin '59 -- a friend of the family -- recommended Hamilton while I was in high school and suggested we take a trip to visit. After doing my own research, I fell in love with the liberal arts education and took him up on his offer. During my first morning here, I ran around campus to get a feel for the place (but mostly because my coach forced me to). Anyway, I loved the campus right off the bat, and I made a decision to "take my talents" from Florida to The Hill.

Before I arrived at Hamilton, I had no real intention to run for the track and field team. I thought high school marked the end of my sports era. But Mark Breazzano, a team captain during my freshman year, convinced me to give it a try and the rest is history.

Q: What has been your favorite Hamilton athletics highlight from all of your seasons?

A: My favorite Hamilton athletics moment was achieved at our last home meet on January 26. Our younger guys really stepped up and represented Hamilton well. Just two meets into the season we have a number of state qualifiers and there was even a team record broken. The younger guys have brought a lot of energy and work hard every day.

Q: Your performance at Brockport qualified you for the Eastern College Athletic Conference Division III championships in March. How do you feel going into your training the next few weeks for the event?

A: The past couple years have been rocky because of injuries. Every season I compete hard, but I am usually broken in some way. This year I am much healthier and ready to jump high. The secret is I had a great preseason and took all the proper precautions to stay healthy. As a result I am very in touch with my vault and I am only working on the finer details of my technique as I progress on to bigger poles. I am very optimistic for the future, and I hope to represent my team well in the ECAC championships.

Q: Do you have any advice about how to excel both in athletics and in the classroom?

A: My first piece of advice is to put school first. We work hard in the gym, but what really matters is our performance in the classroom. Our workouts are tough, but our course load is much harder, so don't compromise. At the same time, you are going to get out of track and field exactly what you put in. Focus on having a great off-season and preseason, get into the weight room and set goals. It goes a long way, I promise.

Q: What will Wlajimir Alexis be doing five years from now?

A: It's funny how much harder this question is to answer as you get older. Well, I have had a few great experiences with a number of smart and talented people in the finance industry. My work at Priority Capital Management -- a hedge fund -- and CreditSights -- a fixed-income research provider, has taught me a lot about my strengths and weaknesses and narrowed my focus down quite a bit.

However, I am still unsure of what the future holds for me in five years. I do know that in the much-more-distant future, I would like to either work in corporate finance or start my own business venture. I have a couple good ideas brewing, so stay tuned for that.