Student-athlete profile: Diane Paverman '13
---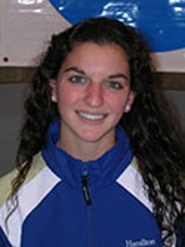 Diane Paverman '13 will help lead the women's swimming and diving team into the 2013 NESCAC Championship at Bowdoin College, which begins on Friday, Feb. 15, and ends on Sunday, Feb. 17. Diane has been one of the top divers in the conference since her first season. She has finished in the top eight of the 1- and 3-meter springboard events at each of the three previous conference championship meets. She is a team captain and holds the program record for most points in the 1-meter board. In 2012, the College Swimming Coaches Association of America recognized Diane as an honorable mention scholar All-American.

Q: Tell us a little bit about where you grew up.

A: I'm from Pleasantville, New York, in Westchester County. I went to a fairly small high school, Byram Hills, in Armonk.

Q: Did you compete in any other sports before you came to Hamilton?

A: I was a lacrosse goalie for a brief period in high school but nothing serious.

Q: How did you get interested in diving?

A: I was a gymnast for six years before I started diving 10 years ago. One day I was at my town pool and I did a flip off the diving board. Someone asked me if I wanted to dive for the summer team and I said sure! Diving had never even occurred to me as an option.

Q: What attracted you to Hamilton College and the swimming and diving program?

A: I'm not quite sure what attracted me to Hamilton. I guess things just clicked when I visited. I stayed with a swimmer on my recruiting trip and had an absolute blast. After that there was really no question as to where I was going to school.

Q: You've had a great season so far, how do you feel going into the NESCAC championship?

A: I'm pumped for NESCACs. It's my final contribution to my team and I hope to do my absolute best for them.

Q: The inaugural NCAA Regional Diving Qualifying Meet is coming up on March 1 and 2. Will you do any special training for it?

A: There is no guarantee that I will attend/be invited to the regional meet, but if I were to go I would continue my usual practice routine and treat it as just another meet.

Q: You are a captain on the team. What type of characteristics do you believe make a good leader?

A: It's important for a leader to be level-headed and approachable.

Q: What has been your favorite Hamilton class and/or professor so far?

A: My favorite professor at Hamilton would have to be Stu Hirshfield. He and I get along really great and we've done a lot of work together, including two summer research projects.

Q: What will Diane Paverman be doing five years from now?

A: So hard to say! As I approach the next chapter of my life, it's becoming increasingly difficult to predict the future. I hope that in five years I will love whatever work I'm involved in. I recently accepted a job as a technology consultant at Booz Allen Hamilton where I will be working on projects involving the defense intelligence agency. So, hopefully I'll be making a difference there in five years!