Student-athlete profile: Becca Hazlett '13
---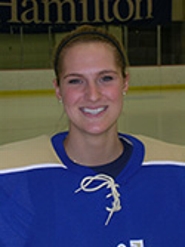 Becca Hazlett '13 (Grosse Pointe Park, Mich. /Taft School) has been a four-year starter in goal on the women's ice hockey team and ranks second in program history with more than 1,800 career saves. Becca made an impact right away as she was voted the 2009-10 NESCAC Rookie of the Year and made the all-conference second team. She holds the team record for best save percentage in a season, and will be a three-time NESCAC winter all-academic team honoree. Becca and the Continentals are in the midst of their best season in history with a 9-3-0 overall record. This weekend they host Trinity College for two conference games at Russell Sage Rink on Friday and Saturday, Jan. 18 and 19. Friday night's game starts at 7 and the teams return to the ice on Saturday at 3 p.m.

Q: Tell us a little bit about where you grew up.

A: Well, that's a tough question because I haven't really grown up in one single location. I've moved a lot, so I like to say I've spent some time all around the Midwest. The on-going joke with some of my teammates is they ask what state I'm going to whenever we have time off. That being said, I spent most of my childhood in Libertyville, Illinois, which is a suburb right outside Chicago. I practically lived outside, playing with the other kids in the neighborhood. Unfortunately, my family moved to Grosse Pointe, Michigan, which is where I live now, when I was in sixth grade. I went to prep school in Connecticut a few years after the move, so I never really had the time to establish good relationships with anyone there.

Q: How did you get interested in hockey?

A: In Chicago we made a rink in our backyard and my brother and dad spent a lot of time out there. My dad played hockey at West Point and my brother, who is three years older than me, picked up the game at a young age. When I was little I felt left out sitting in the house while my dad and brother were outside, so I went outside and sat by the ice just to be included. Soon enough my dad got the hint. He gave me a pair of my brother's old skates and began teaching me how to play on our rink outside. My most valued memories of playing hockey are on that rink with my friends from the moment we woke up until we couldn't feel our toes anymore.

Q: Did you play any other sports before you came to Hamilton?

A: I played everything growing up. I was always outside with kids in my neighborhood and I picked up almost every sport I could at school. Basketball, volleyball, t-ball, soccer, hockey, track, I tried it all. Soccer and hockey were the two that I played year-round and took most seriously. However, like most college athletes, I had to pick a sport to pursue at the collegiate level and hockey was it.

Q: What attracted you to Hamilton College and the women's ice hockey program?

A: I started looking at Hamilton pretty late into the game when our previous coach, Brendon Knight, emailed me. I did a little research on the school and obviously the academics speak for themselves, but I didn't know much about the hockey program. I was really looking to go to a school that had the ideal balance of academics and athletics. My overnight visit here pretty much sealed the deal. I fell in love with the campus and couldn't see myself anywhere else. I was excited to step into a role on a hockey team where I could make an impact, which is how Brendon described it to me. I think my whole class was recruited with that message in mind, and we've certainly made our impression on this program.

Q: What has been your favorite Hamilton hockey highlight from all of your seasons?

A: This is a pretty tough question because there have been some great moments during my three years here, and I'm sure there are more to come. But my favorite moment here, and one that I'm sure I will never forget, is beating Middlebury College my freshman year. It was the first time we beat Middlebury in our program's history, we had a big group of alumnae back, parents were there and we had pretty good fan support. I will never forget that moment. It was an unbelievable feeling.

Q: The team has a big weekend at home against Trinity. How do you feel going into those games?

A: I'm really excited for the games this weekend. We have yet to beat Trinity since I've been here, so we're all pretty excited for the chance to have our revenge on them. These games are also huge for our place in the NESCAC, and if we want to keep battling for the top spot in the league, beating Trinity is a huge piece of that puzzle.

Q: You have been the No. 1 goalie since you arrived on campus four years ago and honored by the NESCAC for athletics and academics. Do you have any advice on how to excel both on the ice and in the classroom?

A: Honestly, there is no magic answer. Balancing everything and having good time management is key. I always try to get my schoolwork done during the day when I have free time so I don't have too much to do after practice. Also, when I'm on the ice, that's what I'm focused on. Leaving your baggage, whether it's personal or school-related, at the door before you get on the ice is so important. Ultimately, hard work and focus both on the ice and in the classroom is a vital piece to any success.

Q: When you were growing up, who were some ice hockey players you looked up to?

A: I really loved Steve Yzerman when I was growing up. My dad is a huge Detroit Red Wings fan, even before we moved to Michigan, so I grew up watching a lot of Red Wing games. Yzerman's skill was incredible, but I really admired his strong leadership and his modesty. I still think he is one of the best and most respected players to play in the NHL. I also loved watching Martin Brodeur play. While the goaltending game has changed quite a bit since he started playing, he is still one of the best goalies the league has ever seen. He competes and never gives up on a play, which is something I always tried to carry over to my game.

Q: One last fun question: What is your favorite ice hockey movie? Any particular reason why?

A: It's impossible to say just one favorite so I'll give you my top three: Mighty Ducks, Miracle and Slap Shot. Mighty Ducks was always my childhood favorite hockey movie and will always be a good one. Slap Shot is up there because it's hilarious, especially the role of the Hanson brothers. Lastly, Miracle is a classic hockey story that every player loves because it's all about heart, dedication and how to overcome being the underdog.

Q: What will Becca Hazlett be doing five years from now?

A: That is a very good question, one that I would like to know myself. I'm trying to get into the marketing/advertising industry, specifically sports marketing. In an ideal world I will have a job that I love, I will be living in a place I want to be and will be surrounded by friends.