Student-athlete profile: Agne Jakubauskaite '13
---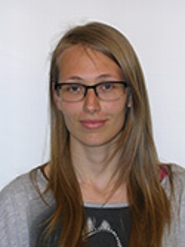 Agne Jakubauskaite '13 has been one of the top performers on the women's indoor and outdoor track & field teams this year. Agne, who suffered an injury during her first indoor season at Hamilton, set the school indoor record in the high jump at the 2013 Eastern College Athletic Conference (ECAC) Division III Indoor Championships in New York City in March. She will go for the outdoor record at the 2013 ECAC Division III Outdoor Championships, which will be held at Springfield College on Thursday and Friday, May 16 and 17.

Q: Tell us a little bit about where you grew up.

A: I am from Lithuania, a small country in Eastern Europe with a population of 3 million (around one-third of that of New York City). Even though my hometown Panevežys is the fifth-largest city in Lithuania, by American standards it is quite tiny, approximately twice as big as Utica.

Q: How did you discover and ultimately decide to attend Hamilton College?

A: While in high school, I was running for the Lithuanian national track and field team and also was a very good student. I knew that if I stayed in Lithuania, I probably had to choose one or the other, so I decided to go to the United States where I can play sports and get the best education. Before I came to the U.S. I did not speak much English, so I decided to apply to a small liberal arts school because I was afraid I would get lost at a big institution. After talking to the coaches and administration staff at various schools, I felt that people from Hamilton actually cared about me, so I applied early decision.

Q: Did you participate in any other sports before arriving at Hamilton?

A: Sports have always been a huge part of my life, thanks to my dad who is a track and field coach, a former high jumper (he jumped 7 feet, a whole foot over his head!) and a healthy lifestyle enthusiast. My dad taught me how to play basketball, soccer and volleyball, and I came to love every single one of them, especially basketball. But when I was 9 years old I fell in love with track and field, and since then other sports became recreational activities.

Q: This is your first full year as a member of both the indoor and outdoor track & field teams. What made you decide to join the team during your senior year?

A: I have been running track for most of my life and I planned to continue doing it at Hamilton. But unfortunately I dislocated my knee during the first year and for the next two years I could not even jog. During these two years I tried other activities, but always felt like I was missing a part of myself. Even though my knee is still giving me a hard time, I could not stay away from the track any longer. I learned how to deal with my knee and strengthened it enough for a light load of practice. Even though I missed out on most of college track, one year is still better than nothing.

Q: Tell us about how you got into high jumping and what your training looks like.

A: Back in Lithuania my event was heptathlon, so I was hoping to do it at Hamilton as well. But due to my injured knee, I cannot do most of the things I was able to, including running full speed. Since my take-off leg is still healthy and I do not need to run that fast for high jump, this event is one of the few I can actually compete in. Due to my limited abilities, my training is not as intense as I would like it to be. But a little bit of something is better than nothing, so I keep that in mind and take it one step at a time.

Q: You broke the team's indoor track and field high jump record at the ECAC indoor championships on March 2 with a height of 1.59 meters (5 feet, 2.5 inches). What does that achievement mean to you?

A: Everyone would be happy to break a school record, there is no doubt in that. But for me it was not only a happy moment, a big honor and motivation to work even harder, but also a huge encouragement. Breaking the school record really boosted my self-confidence because a year ago I did not even think I would be able to high jump ever again.

Q: You competed in the ECAC indoor championships and are coming off a fifth place finish at the NYSCTC outdoor championships. How can you build off your success and have a great showing at the ECAC outdoor championships on May 16 and 17?

A: Since this competition will most likely be my last at Hamilton, I try not to stress myself out with high expectations, and simply hope to have some fun while doing what I love. That being said, it would be really nice to finish the season on a high note and jump a little bit higher because I am less than an inch away from the outdoor school record.

Q: What has been your favorite memory from this season with the track & field team?

A: The highlight of the season most definitely was the Eastern College Athletic Conference indoor championships at the New York City Armory. A high level of competition, a prestigious track, a great team performance and an incredible team dinner the night before made the whole season's hard work worthwhile.

Q: You are a two-time member of the NESCAC all-academic team. Track and field takes up the entire spring semester, so what is your advice for excelling both on and off the track?

A: Nothing is impossible; the only limiting factor is how badly you want something and how much effort you are willing to put in. As far as the college life goes, the busier you are, the more you get done. The key to success in whatever you are doing is effort, focus and time management.

Q: What has been your favorite class at Hamilton?

A: Since I am madly in love with biology and took quite a few biology classes, it is pretty hard to pick a single favorite. However, my vote goes to Genes and Genomes with Jinnie Garrett, as genetics is the topic which interests me the most.

Q: What will Agne Jakubauskaite be doing five years from now?

A: Five years from now I will be enjoying life (sports included!) somewhere warm while working towards my Ph.D. in biology.