Softball swept by St. Lawrence
---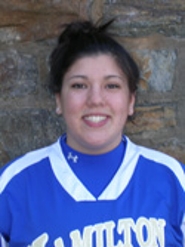 St. Lawrence University's Chelsea Cavellier '13 posted five hits and four RBI and the Saints swept a non-conference doubleheader against Hamilton College at Hamilton's Ferguson Fields on May 1.

St. Lawrence (21-15 overall) won the first game 8-3 and held on to edge Hamilton 5-4 in the nightcap. Elizabeth McGinley '13 pitched a complete game in the opener for the Saints and picked up her first save in Game 2. The Saints scored four runs in the second inning in both games.

Cavellier went 3-for-4 with her sixth double and drove in two runs in Game 1. Natasha Bell '14 was 2-for-3 with her first double this year and had one RBI. Caroline Kieltyka '14 went 2-for-2 with her fourth double, Rebecca Allen '14 had two hits and Leslie Stratton '14 added two hits and an RBI. McGinley (11-7) allowed two earned runs on 10 hits, walked none and struck out seven.

Melissa Kaknis '13 and Sam Miller '14 recorded two hits and an RBI apiece for the Continentals. Kaknis hammered her eighth double and Miller cracked one as well. Olivia Gozdz '16 went 2-for-3. Amy Appel '13 started in the circle and took the loss. Appel (3-6) allowed one earned run on seven hits in two innings. Kelly Leonard '15, who hit her fourth double, pitched the final five innings. Leonard allowed one earned run on six hits.

St. Lawrence led 1-0 after one inning in the first game and grabbed a commanding 5-0 advantage with four runs in the top of the second. Allen led off with a single and went to second on a sacrifice bunt. Cailyn Welsh '14 hit a pop-up in foul territory that was dropped and then drove in Allen with a single to left center. Kieltyka singled to right and Welsh went to second. The rest of the damage was done with two outs. Bell loaded the bases with a single and Cavellier cleared the bases on a single to left after the left fielder's errant throw to home plate bounced into the Saints' dugout.

Aisha O'Connor '15 went 3-for-3 and drove in two runs for St. Lawrence in the second game. Cavellier chipped in two hits and two RBI. Kyle Plimpton '15 was nearly untouchable through the first four innings and ran into trouble in the fifth. Plimpton (10-8) allowed two earned runs on six hits, walked two and fanned nine in 4.2 innings. McGinley tossed 2.1 shutout innings and surrendered three hits for the save.

Nine Hamilton players had one hit each in Game 2. Appel doubled and drove in a run, Miller whacked her seventh double and Jenn Rougeux '14 had an RBI. Leonard (9-13) took the loss after she allowed four earned runs on eight hits in seven innings. She gave up her first walk in 36 innings and allowed just one hit after the second inning.

Gozdz singled in the first inning and extended her hitting streak to 15 games. She left the game later that inning when she was injured in a collision at home plate.

Just like the first game, the Saints went up 1-0 after one and added four runs in the top of the second inning. Allen, Lauren Weisbarth '13 and Welsh started the inning with singles and loaded the bases for Kieltyka, who forced in a run when she drew a walk. Two fielder's choice ground balls forced out runners at the plate and it was time for more two-out magic. Cavellier drove in two runs with a single to right center and advanced to second on the throw. O'Connor's single to right scored Bell and Cavellier was thrown out at third base, which ended the inning.

The Continentals (13-22) rallied with four runs in the fifth inning. Chelsea Merritt '14 led off with a single, Sarah Moore '16 walked and Appel plated Merritt with a double to left center. Rougeux drove in Moore with a single up the middle and Appel went to third. Rougeux stole second and after two strikeouts, Ellie Kiernan '15 reached base on an infield throwing error that scored Appel and chased Plimpton. Monique St. Jarre '15 greeted McGinley with a comebacker to the circle. Rougeux broke for home and got caught in a rundown, but was awarded home plate when obstruction was called on a St. Lawrence player.

Hamilton nearly tied the score in the bottom of the seventh inning. St. Jarre and Leonard laced singles up the middle with two outs but McGinley got the next batter to hit a pop fly to shortstop and end the game.

The Continentals' season is over. St. Lawrence takes on Rensselaer in the Liberty League championship at the University of Rochester on Friday, May 3.