Softball shuts out Morrisville State in non-conference action
---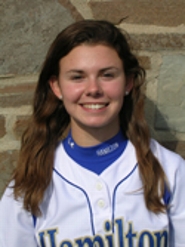 Hamilton College's Kelly Leonard '15 tossed a one-hit shutout and the Continentals cruised to a 12-0 non-conference win against Morrisville State College at Hamilton's Ferguson Fields on April 30.

The game was stopped after the top of the fifth inning due to the eight-run mercy rule. Hamilton wraps up its season with a non-conference doubleheader at home against St. Lawrence University on Wednesday, May 1.

Leonard (9-12) finished three outs shy of a perfect game when Kayla Walker '13 led off the fifth inning with a line single to left center. Leonard struck out seven batters and walked none in five innings. She tied a school record with her fourth shutout this season. Leonard, who has not issued a walk in five straight games, is ranked 19th in Division III in walks allowed per seven innings.

Leonard also got the job done at the plate with two singles and two RBI. Olivia Gozdz '16 extended her hitting streak to 13 games with a double and a single, and added two RBI and three runs scored. Gozdz has 16 multi-hit games this season. Melissa Kaknis '13 doubled and drove in three runs, and Ellie Kiernan '15 collected a triple and a single and knocked in a run.

Tiffany Burks '16 allowed eight earned runs on 10 hits and took the loss for Morrisville (6-21 overall).

Hamilton (13-20) jumped out to a 2-0 lead in the bottom of the first inning on a two-run double by Kaknis after a leadoff single by Gozdz and Jenn Rougeux '14 walked. The Continentals exploded for six runs in the third for an 8-0 lead. Kiernan led off with a triple and Kaknis walked and stole second base. Monique St. Jarre '15 singled up the middle and plated Kiernan, and then stole second. St. Jarre and Kaknis came around to score on Leonard's single up the middle.

After Burks retired the next two batters, Hamilton loaded the bases on a single by Amy Appel '13 and a walk to Gozdz. Leonard scored on a passed ball and the Continentals loaded the bases again after a walk to Rougeux. An infield error allowed Appel to score and Kaknis drew a bases-loaded walk and picked up her team-best 22nd RBI.

Hamilton tacked on four more runs in the fourth inning. Gozdz laced a two-out double to left center that drove in two runs. The last two runs scored on a single by Kiernan and a dropped fly ball off the bat of Kaknis.