Softball player making headlines in hometown paper
---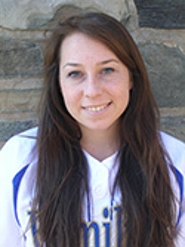 Hamilton College softball outfielder Olivia Gozdz '16 (Darien, Conn./Darien HS) has recently been the subject of attention in her hometown newspaper, the Darien Times.

It all began on April 18 when Gozdz tied the team's single-season record with her 40th hit during a doubleheader sweep against SUNY Potsdam. Darien Times reporter Steven Buono picked up on the local student-athlete in his article from April 24 titled "Good Gozdz: Freshman ties Hamilton record with 40 hits," which can be found here.

Gozdz continued to produce on the field, including Hamilton's single-season mark with 50 hits, and Buono prepared a more in-depth look at the first-year player. He spoke with head coach Bill Spicer, which is detailed in his May 1 article titled "Connecting for the Continentals: Rookie Gozdz Hamilton's best ever hitter," which can be found here.

Most recently, Gozdz was named to the NESCAC all-conference team and the National Fastpitch Coaches Association Division III New England Region all-region team, and she was featured in one final article on May 14 called, "Gozdz Hamilton's first NESCAC top star," which can be found here.

Gozdz ranks second in the NESCAC with a .472 batting average, fourth with a .504 on-base percentage and seventh with a .604 slugging percentage, and led the Continentals with 23 runs scored. Gozdz ended the year on a 15-game hit streak and posted 17 multi-hit games.