Softball earns split with Amherst
---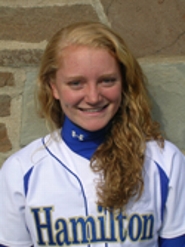 Hamilton College's Ellie Kiernan '15 went 3-for-5 with a home run and three RBI in the second game of a NESCAC West Division doubleheader, and the Continentals earned a split with Amherst College in Amherst, Mass., on April 6.

Hamilton (7-13 overall, 1-5 NESCAC West) bounced back to win the second game, 13-7, after the Continentals dropped the opener 11-2 in five innings. Amherst had won six straight before the Lord Jeffs fell in Game 2.

Hamilton took a 6-4 lead into the seventh inning of Game 2, when the Continentals erupted for seven runs and clinched the win. Kiernan was one of seven Hamilton players who enjoyed multi-hit games in the nightcap. Kelly Leonard '15 (4-8) was 3-for-4 and pitched a complete game, as she struck out four and walked just one.

Olivia Gozdz '16, Melissa Kaknis '13 and Lisa Faraci '13 collected two hits and two RBI each for the Continentals. Monique St. Jarre '15 and Jenn Rougeux '14 also recorded two hits apiece.

Reilly Horan was a perfect 3-for-3, smacked a home run and drove in five runs for the Lord Jeffs. Kaitlin Silkowitz went 4-for-4 with three runs scored and two stolen bases. Caroline Sealander also hit a home run.

Amherst (18-6, 3-3) took a 4-1 advantageinto the fifth inning, when Hamilton scored five runs and took the lead for good. Faraci led off with a walk and Leonard singled. Rougeux's single drove in Faraci and moved Leonard over to third. After Rougeux stole second, Kaknis drove in Leonard with a single to center. Kiernan was the next batter, and she drove a pitch over the fence for a three-run homer.

The Continentals held on to their 6-4 lead into the final inning and blew the game open with seven runs. Kiernan, Talia Mercado '14 and St. Jarre loaded the bases with one-out singles. Back-to-back singles by Faraci and Leonard drove in one run apiece, and Gozdz's double plated two more. Rougeux followed with a single that loaded the bases again, Miller hit into a fielder's choice that was misplayed by the shortstop and two more runs scored. Kaknis singled and drove in the last run.

The Jeffs tried to mount a comeback on Horan's three-run homer with one out, and then a double by Carolyn Miller. But Leonard retired the next two batters for the win.

In the first game, Amherst scored all 11 of its runs in the second and third innings. Sealander, Horan and Alyssa Sherwill had two hits each, including a homer. Sealander also doubled and finished with five RBI. Sherwill wound up with two RBI and Horan scored two runs. Silkowitz tripled, singled and stole a base. Theresa Kelley (11-1) gave up two runs in three-plus innings and Nicolette Miranda pitched two perfect innings in relief.

Kaknis hit a two-run homer, her first this season for Hamilton. Sam Miller '14 doubled and Kiernan singled, and Miller also scored a run.

Amherst scored five runs in the second inning and six in the third. In the second, Horan led off with a home run. After Carolyn Miller doubled and advanced to third on a groundout, Kelley plated Miller with a double. Sealander hit a two-run shot and Sherwill made it back-to-back homers with another blast.

In the third, Horan and Miller singled with one out, and an error by Kiernan allowed Horan to score. Kelley lined a single to left that loaded the bases and Sealander hit a bases-clearing double for a 9-0 lead. A double by Sherwill and a triple by Silkowitz rounded out the scoring for the Jeffs.

Hamilton travels to Utica College for a non-conference doubleheader on Tuesday, April 9.