Sherman '15 Lands Internship at Exclusive N.J. Golf Club
---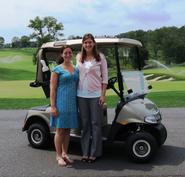 Samantha Sherman '15 has taken to heart the oft-repeated advice of Hamilton College's Maurice Horowitch Career Center to "get started early" when it comes to career related experience. Although only a rising sophomore, Sherman has spent the past two months working in a marketing and public relations internship at the Hamilton Farm Golf Club in Gladstone, N.J. Founded in 2001, Hamilton Farm has been heralded by the New York Times as one of the world's most exclusive golf clubs and was originally conceived as an 18- member club with memberships to be sold for $1 million apiece.
Hamilton Farm has since changed its membership strategy to allow for a larger pool of members, but the 36-hole course, helipad and historic Georgian estate-turned-restaurant help the club to retain an air of exclusivity. Hamilton Farm is also home to the 1916 stable complex built by millionaire James Cox Brady, which is one of the largest and most lavish stables in the United States and houses the 30 Olympic medal-winning United States Equestrian Team. Sherman's unpaid internship is supported by a stipend from the Gerome Gottlieb '64 fund, which is managed by the Career Center.
Hamilton Farm's marketing department only hires one intern per summer, meaning that Sherman has the opportunity to work independently on a large number of the club's projects. She has served as the club's in-house photographer, created and updated a database of member profiles and created fliers and membership packets for the club's July-September tournaments. Working independently on materials sent directly to the clubs members has allowed Sherman to express her creativity while learning about marketing, and she remarked that it was an exciting feeling to see her work on display around the club, in members' mailing packets and on the Hamilton Farm website.
Sherman has had the opportunity to meet with and work with a number of the club's other employees, including the general manager, accounting staff and golf professionals. She described the club as having a strong sense of community and remarked that the staff and members are very amicable with one another. This professional environment and commitment to serving was an important factor in her original decision to apply for an internship at club.
While Sherman still has ample time before she must decide upon a career field, she believes that her internship has nonetheless helped her to prepare for a variety of future professions. "The experience and skills I have learned will definitely be useful in my future," she said, remarking that the confidence and problem solving skills she has gained will be invaluable in both academia and in her future career.

Sherman is a graduate of Bridgewater-Raritan Regional High School (N.J.)
Career Center –