Sharon and David Rivera Present Workshop in Russia
---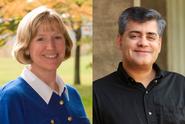 Associate Professor of Government Sharon Werning Rivera and Scholar-in-Residence David W. Rivera led a workshop on pedagogical techniques in higher education on July 3 at the Linguistics University of Nizhny Novgorod (LUNN) in Nizhny Novgorod, Russia.
The workshop covered alternative methods of assessing student learning; criteria for grading written assignments; the use of Blackboard to manage assignments and grading in large courses; and the different expectations regarding baccalaureate, as opposed to master's, programs.
Sharon Rivera is currently conducting research in Nizhny Novgorod as a Fulbright U.S. Scholar to the Russian Federation. She is working with Russian scholars to advance an ongoing research project on the composition of the Russian elite.
LUNN is a state academic institution accredited by the Ministry of Education and Science of the Russian Federation. It ranks among the top four Russian universities of its kind and offers degrees in the social sciences, foreign languages, linguistics and translation and interpreting.
The Fulbright Program has been in existence for more than 60 years. It aims to increase mutual understanding between the people of the United States and the people of the more than 150 countries that currently participate in the program.