Senior Art Concentrators, Faculty Make Annual Trek to NYC Studios
---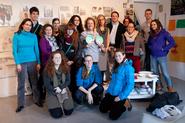 After their original plans to visit the studios of professional artists fell through in October due to damage caused by Hurricane Sandy, nine senior art concentrators and art faculty were able to reschedule the always- anticipated trip and visit New York City on Jan. 24-27.
Students Emily Archer, Danielle Lashley, Rachel Cackett, Sara Meissner, Cindy Reyes, Alexandra Rimmer, Bradford Kennedy, Alyssa Hopper and Grace Lee embarked on the annual trip, accompanied by Professors Katharine Kuharic, Robert Knight and Rebecca Murtaugh.
Tracy Adler and Susannah White of Hamilton's new Ruth and Elmer Wellin Museum of Art accompanied the group to several events, as did students on the New York City program and the program director Associate Professor of Art Ella Gant.
The group visited the studios of both emerging and established artists including Marilyn Minter, Julia Jacquette, George Boorujy, Karen Heagle and Robin Williams. The artists were happy to answer questions from the group and to offer advice to the students, some of whom may enter the art world as emerging artists in the years following graduation.
Marilyn Minter, now an established artist, noted that life as an emerging artist can be difficult, but that "if you decide to be an artist, the universe opens up and makes a place for you." Robin Williams commented that "living in New York City is hard but worth it" due to the strong presence of the art community and museums. She also encouraged students to persevere through the early days of a professional art career when taste levels are high but skills are still low. The artists ultimately offered honest but optimistic advice in response to students' questions about life as an artist in New York City.
As part of the visit Hamilton Trustee Kevin Kennedy '70 and his wife Karen, invited the students to view their art collection at a reception held in their New York City apartment. Kennedy graciously welcomed the group into his home, speaking at length about how his own time as an art major at Hamilton developed into an appreciation for art later in life. The students were able to view works by such notable artists as Charles Burchfield, Arthur Dove, Yayoi Kusama, Alfred Stieglitz, Edward Steichen and Man Ray, all in a relaxed atmosphere that was an exceptional ending to a busy day of visiting studios.
Both faculty and students alike returned from the weekend with appreciation and positive outlooks for the future. Professor Robert Knight noted, "The New York City studio tours provided an excellent opportunity for our seniors to get exposure to practicing artists in various stages of making their work and at varying points in their careers. He added, "I'm confident that this experience will provide them with added motivation and enthusiasm as they make the final push in their senior projects this spring, and also serve as models for possible career paths after graduation."
Senior Sara Meissner seconded his sentiments, remarking, "This was an amazing opportunity to meet working artists and see their process in action. It was a busy and mind-blowing weekend."
A busy trip to be sure, but one that brought the students into contact with an integral side of the art world rarely seen by the public, and one that will have significant short- and long-term effects on the students' artwork and lives.