Second Levitt Leadership Institute Inspires Students
---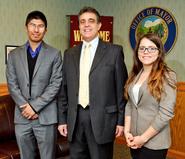 In an effort to change our society for the better, former United States Ambassador Prudence Bushnell believes that we must train our leaders at an early age. While students at West Point, Annapolis and other military academies receive top-notch leadership training, most civilian students are not given these opportunities. To fill this void, Bushnell partnered with Hamilton's Arthur Levitt Public Affairs Center to create the Levitt Leadership Institute (LLI).
"Hamilton students have much of what it takes to make a difference and the Levitt Center team, Chris Powers, and I are committed to helping them do so – starting with personal leadership skills," Bushnell said of the program.
In her second year at the helm, Bushnell provides a unique perspective on leadership through the lens of her experience overseas. Assisted by Christine Powers – a leadership development trainer who has worked extensively with the State Department – Bushnell guided a group of 19 Hamilton students through a rigorous weeklong training.
Students arrived for week one on January 13 and spent roughly eight hours per day refining their leadership skills. During this time, participants analyzed their Myers-Briggs personality types, Thomas-Kilmann conflict results and individual leadership styles.
Students then participated in team initiatives that tested their ability to function effectively within a group. Sam Sherman '15 – who plays varsity field hockey and serves on the HAVOC executive board – said of the exercises, "I have become significantly more self-aware and will apply the multiple lessons I have learned on leadership, followership, and conflict daily."
Dylan Wulderk '13 – who is deliberating on whether to pursue a job in politics or a master's program in public administration – echoed Sherman's beliefs. He said, "Self-awareness is absolutely critical in order to be successful, and by viewing myself on tape during interviews, leadership initiatives, and group activities, I was able to see myself through the eyes of others."
Other events during the week included a discussion with Mary Evans '82, director of the Career Center, interviews with local community leaders, a dinner with Larry Gilroy '81, president of Gilroy Kernan & Gilroy Insurance, and a reception with Hamilton President Joan Hinde Stewart.
Week two of the LLI will commence over spring break, during which the Levitt Leaders will travel to D.C. for "The Washington Challenge." In preparation, participants have been broken into five groups, each being responsible for a networking event in the nation's capital. The group will meet with members of various sectors – including the Foreign Service, national security, lobbying, non-profit and the media – to gain insight into leadership on a national scale. So, what comes after The Washington Challenge?
"Now comes the more compelling part - getting measurable and positive results by using skills and passion on a meaningful project," Bushnell explained. "What excites me…are the real life results Levitt leaders are going to produce over the next couple of years. Stay tuned."
These results will come to fruition via the "commitment projects," initiatives devised by each participant to improve a community of his or her choice. According to Kevin Tutasig '13, Bushnell has and will continue to help motivate students in their commitment projects and beyond. "Her passion to teach students the importance of compromising, listening, speaking up, and being respectful to others has truly influenced Levitt leaders to strive for goals that will help improve the world we live in."