HamiltonExplore Enables Students to Spend a Day on the Job
---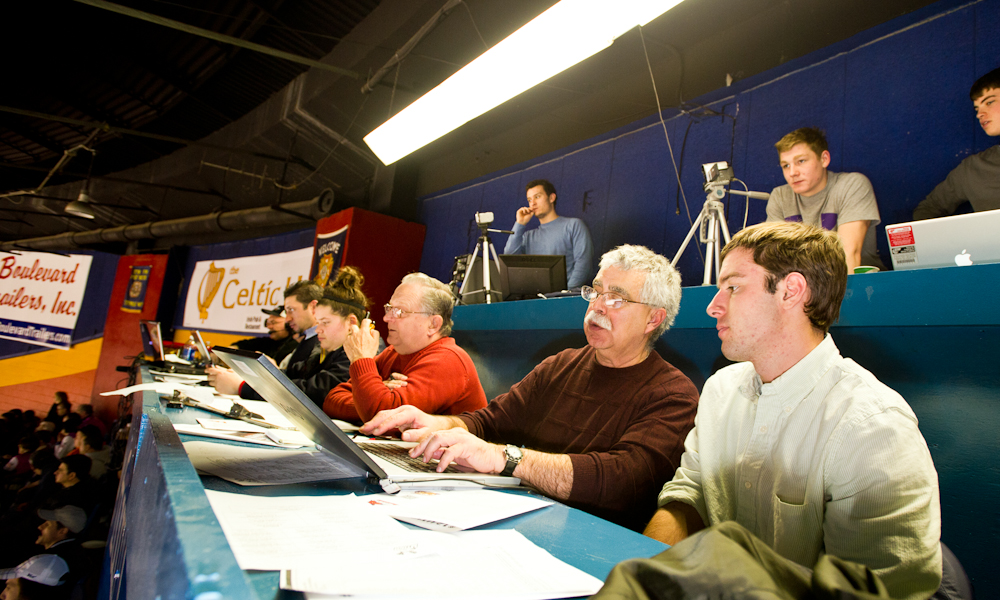 Last year, the Career Center launched an initiative for sophomores aimed at assisting them with career exploration and decision making by offering the opportunity to "shadow" (observe) a Hamilton alumnus/a or parent in the workplace for a day or part of a day. HamiltonExplore gives students the chance to see what a professional in a selected field does on a typical workday. By observing the nature of the work first-hand and asking questions of the sponsor, students can acquire insight into a career field and determine the suitability of that career.
The sponsors for HamiltonExplore are mostly comprised of Hamilton alumni and parents who work in and around New York, Boston and Philadelphia; this year a few students shadowed alumni in the Upstate New York region when they returned to Hamilton.

In September, the Career Center listed hundreds of shadowing opportunities on HamNET and invited sophomores to apply for HamiltonExplore. Applying to the program required that each student select his or her top four choices for placement. Then, the applicants had to write an essay explaining their interest in the four chosen shadow sites. Career Center staff matched sophomores with alumni or parent sponsors on a first-come-first-serve basis.

At Welch & Forbes LLC, a private wealth management firm in Boston, Meghan Doherty '14 was able to see how the world of finance operates, firsthand. She spent a full workday shadowing Seth Gelsthorpe '80, a portfolio manager at Welch & Forbes.

"I attended a conference call, and I had the opportunity to ask questions about the field," said Doherty. "I felt very welcomed."

In an office full of Hamilton alumni, Doherty had every reason to feel comfortable. Not only is Gelsthorpe a graduate of the College, but president John H. Emmons, Jr. '75 is also an alumnus.

Doherty said, "HamiltonExplore was a great experience because it was a one-day opportunity for me to see how a real business works. However, I could see myself having an actual internship in the finance field in the future."

Sophomore Jake London's HamiltonExplore site was also located in Boston, at the office of Governor Deval Patrick. London shadowed Director of Constituent Services Mark Lilienthal '97.

"He's working to implement legislation for a public food market in the city of Boston," said London. While shadowing Lilienthal, he received a tour of the market's future site.

Throughout the day, London met with various other employees in the office, including Director of Operations Alex Richman '06, with whom he had lunch. He had the opportunity to ask questions, which informed his understanding of state government. "If you want to have a career in government—at least state government—you need to have a passion for helping others," said London.

As a result of London's experience, he hopes to spend this summer getting involved with a political campaign, at the local or state level.

Katharine Tomalonis '14 spent her shadowing experience at New York University's Institute for Education and Social Policy. "The Institute is a cross between the Wagner School of Public Policy and the Steinhardt School of Education," explained Tomalonis. Her sponsor was research associate Elizabeth Debraggio '07.

"The Institute asks for grants and conducts studies based on subjects they find interesting, or have companies approach them with ideas for studies," explained Tomalonis. "One recent study sought to combat obesity in school systems based upon data regarding breakfast and lunch programs offered at different schools."

"When I first got to the office, my sponsor explained how things work," said Tomalonis. "She was outlining a paper she was going to present at a conference. The idea of using statistical programs to analyze and report data is familiar to me, after having taken courses such as Psych Stats."
"I really want to go into policy research, and I wasn't entirely sure where to start," said Tomalonis. "I'm really interested in education in the sciences. This seemed like a way to get my feet wet in the policy career track. It's something I can see myself doing."
Alex (Alexandrea) Smyrnos '14 shadowed Dave Bolger '99, senior vice president, group media director at Hill Holliday in Boston. "I could not have asked for a better person to shadow. I was given a very detailed, engaging and fascinating tour of the inner workings of an advertising firm and how its media department functions," said Smyrnos. "Prior to HamiltonExplore I wasn't really keen on the idea of working in the media/marketing field," she remarked. "Now however, I'm completely sold."

Although the Career Center offered shadowing experiences closer to his hometown, Pennsylvania native Michael Magaziner '14 commuted to New York City for HamiltonExplore.

His sponsor, Ashley McGrail '02, is the director of new business development, global network services at American Express.

"I had the opportunity to ask my sponsor questions over breakfast, and I sat in on two meetings," said Magaziner. "I also met some of my sponsor's coworkers. It's cool to see how different people and departments interact in a professional environment."

"I'm interested in marketing, and this directly relates," Magaziner said. "The company co-brands American Express cards with other industries, such as airlines and other banks around the world."

Last summer, Magaziner was an information technology intern at Johnson & Johnson, a multi-national pharmaceutical and health care product corporation.

"Networking is everything," he said. "I've had five or six informational interviews, and I've learned that it's all about connecting—who you know. That's life: Building relationships."

Magaziner is no stranger to the professional world, but for many, HamiltonExplore was their first time in an office, or even applying for a position.
"It was great to get the ball rolling on writing my resume and learning how to act in a professional setting," said London.
"If you get an internship the summer after sophomore year, you might be able to keep it for the next summer, or learn that you would rather try something different," Doherty added.