Science Faculty Awarded Research Corporation Grant for Collaborative Work on Ich
---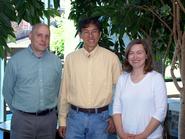 Hamilton faculty Wei-Jen Chang (biology), Natalia Connolly (physics), and Alistair Campbell (computer science) have just been awarded a Multi-Investigator Cottrell College Science Award by the Research Corporation. This award, in the amount of $100,000, is for developing novel computational techniques for investigating gene interaction networks in fish parasite called Ichthyopthirius multifiliis (Ich).
Ich is the primary cause of the "white-spot" disease in freshwater fish. As humans depend more and more on farmed fish as a source of dietary protein, outbreaks of Ich, which can kill as many as 18 million fish in one incident, hurt both food supplies and the economy. Treatments of Ich infections are limited due to a lack of understanding of Ich at the molecular level.
The team's work will use modern genomic sequencing techniques to produce tens of thousands of gene expression profiles. Professor Chang, a biologist, will be responsible for producing the samples and providing the biological context of the results. As an astrophysicist used to analyzing very large data sets, Professor Connolly will analyze the genomic data to identify candidate genes crucial to Ich's morphology and physiology using modern Bayesian statistical techniques. The techniques that Connolly plans to use were originally developed to understand trends and patterns in large data sets of supernovae and galaxies; however, it is the team's hope that they will work for large samples of genes as well. Professor Campbell, a computer scientist, will build a data transformation pipeline.
It is the team's hope that such an interdisciplinary scientific collaboration, the first of its kind at Hamilton College, will promote more inter-departmental interactions and foster an entrepreneurial spirit of trying out new and different techniques for today's most challenging scientific problems.