ROSE Fund Stresses Self-Esteem to Domestic Violence Victims
---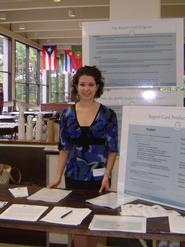 For the victims of domestic violence, the complex emotional effects often leave deeper scars than those on the body. But the first step to finding a voice is confidence, and Katherine Costa '12 is working with the ROSE Fund this summer to help women recover their self-esteem and take a stand against domestic violence. She is supported by the Joseph F. Anderson '44 Fund.

ROSE stands for "Regaining One's Self-Esteem." The goal of the Wakefield, Massachusetts-based fund is to help women pay for reconstructive surgery if they have been injured or disfigured as a result of domestic violence, both in the Boston area and nationwide. The organization reaches out to doctors and dentists who agree to provide free reconstructive medical and dental procedures to women who otherwise cannot afford surgery. The procedures range from minor dental work (repairing broken and missing teeth) to scar revision and complete facial reconstruction.

"One woman sustained such serious burns when her ex-boyfriend threw battery acid on her that she was unrecognizable to her three-year-old son. Another had her nose cut off by her husband after he ran her over with his car, broke her leg and stabbed her," Costa said. "The ROSE Fund has helped both of these women, as well as hundreds of others, minimize their physical scars and regain the courage to show their faces to the world again."

Another facet of the ROSE Fund is its prevention program, which is focused on Massachusetts high schools. One in five high school girls across the country has been hit, kicked or punched by a dating partner, and many students feel that their school did not sufficiently address the issue. The ROSE Fund's program, called the Report Card Initiative, "aims to evaluate the level of domestic violence (DV) and teen dating violence (TDV) awareness and education in high schools and colleges, transforming them from 'unaware and unprepared' to 'informed and effective' at dealing with TDV," Costa explained. The Report Card recommends training programs and gives schools advice as to how to better address the TDV issue.

As the research coordinator for the ROSE Fund Report Card Initiative, Costa researches and evaluates high schools' Training and Awareness programs, such as Health class curriculum materials and plays like The Yellow Dress, which depicts and educates about domestic violence. Costa also talks to experts on DV and TDV to learn as much as possible about the action that schools can take.

The more people I talk to, the more I realize how prevalent this issue is and how little it is talked about," Costa observed. "The Chris Brown/Rihanna incident publicized the issue to an unprecedented extent, but the way it was handled by the media is questionable. By exposing this issue like the ROSE Report Card aims to do, I feel I am taking a step in the right direction of breaking the silence, and hopefully the cycle, of intimate partner violence."

Having taken many classes in anthropology and women's studies, Costa finds that this internship fits in well with her academic concerns as well as those she has with regard to social justice; she is also an active member of the Womyn's Center and SAVES (Sexual Assault and Violence Education and Support). "This internship has helped me realize that there are many great agencies out there, like ROSE, whose sole mission is the help women who have survived abuse and to prevent it from happening again. I can take this knowledge with me back to the Hamilton community, as well as out into the 'real world' as I embark on my future career search," Costa said.

Costa's internship is unfunded, and she is grateful for the support given to her by Hamilton's Joseph F. Anderson '44 Internship Fund. The fund provides stipends to support full-time internships for students wishing to take on not-for-profit internships in preparation for potential careers after graduation. A student in any proposed or declared area of concentration may apply for the award.

Costa is a graduate of Melrose High School in Melrose, Mass.