Program in Washington Students Learn About Lobbying
---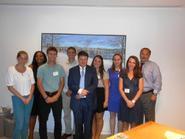 Hamilton College Program in Washington D.C. participants visited with Hamilton alumni George Baker '74 and Frank Vlossak '89 for an in-depth discussion on lobbying in Washington, D.C. on Sept. 4. Baker and Vlossak are currently principals at Williams and Jensen PLLC. Williams and Jensen is one of the nation's leading, independently owned government affairs law firms.
Topics discussed by Baker and Vlossak included their day-to-day responsibilities, the importance of providing reliable and accurate information to clients, and they ways in which firms such as Williams and Jensen interact with Congress, congressional staff, and executive branch officials. They also discussed the ways in which laws governing lobbying have changed in the post-Abramoff environment.
Baker and Vlossak are great friends to the D.C. Program. In mid-October, they will also host a Hamilton Alumni Media panel at Williams and Jensen for the D.C. students. Panelists will include Walter Cronkite III, '09, associate producer for Politics at CBS News; Matt House '08, communications director for Senator Schumer of NY; Frank Matt '10, associate producer for Al Jazeera America; Lachlan Markay '10, reporter for the Washington Free Beacon; Kate Nocera '05, Capitol Hill reporter for BuzzFeed online news (formerly Capitol Hill reporter for Politico); Niels Lesniewski '07, Senate reporter for Roll Call/Congressional Quarterly. Panelists will cover a range of topics such as how they made it from Hamilton to the Washington, D.C. media scene, and their perspective on covering politics in the fast-paced information environment of D.C.