Professor Emeritus Comfort Richardson Remembered
---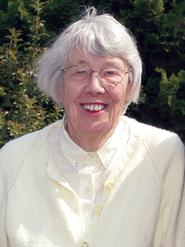 Hamilton President Joan Hinde Stewart announced in an e-mail to the campus community the death of Professor of Physical Education Emeritus Comfort Richardson [The notice below was updated on Nov. 2 with additional information from the family]:
Dear Members of the Hamilton Community,
I write again with sad news: Professor of Physical Education Emeritus Comfort Cary Richardson died peacefully Friday, Oct. 26, in Kennett Square, Pa., where she and her husband Channing had retired. They first came to Clinton in 1952. Comfort was 94.
Comfort pioneered women's athletics on College Hill. When Kirkland College students first expressed interest in athletics, Comfort was hired in 1969 to create a program of instruction. She received support from Hamilton's athletics department and developed a program that eventually led to intercollegiate teams. In addition to administering the Kirkland athletics program, Comfort coached tennis, the first female varsity sport on College Hill. She was also dean of student affairs for Kirkland the year before the two colleges combined.
When Kirkland and Hamilton merged, there were four varsity sports for women, and by the time Comfort retired in 1982 as assistant professor of physical education and associate director of athletics, women's sports were flourishing. Today there are 15 intercollegiate sports for Hamilton's female student-athletes. In recognition of her leadership of women's athletics on College Hill, Comfort was presented with the Bell Ringer Award, the Alumni Association's highest honor, in 1997.
Comfort and Channing, who retired in 1983 as the Henry Platt Bristol Professor of International Affairs and died in 2009, were married for 60 years. They were active in the Mohawk Valley Friends Meeting and had retired to Kendal-Crosslands, a Quaker retirement community outside Philadelphia. In 2000, alumni and friends established the Channing B. and Comfort Cary Richardson Fund for Faculty Innovation to honor the couple for their contributions to the Kirkland and Hamilton communities.
Comfort is survived by her children: Meg, Ann, David and Eric. They have asked that, in lieu of flowers, donations in Comfort's memory be made to Hamilton College, the American Friends Service Committee, or Alzheimer's research. The family anticipates a formal memorial service or informal gathering in Clinton at a date to be determined.
Joan Hinde Stewart
Reflections
Comfort was for me as she sounded. Gentle, placid, easy to smile~~~Comfort itself. I was her tennis player...#1 on her Women's Varsity team for the 2 years I was at Hamilton. She was grateful for a strong addition to the team but never favored anyone. She was old-fashioned in a truly comforting way. Agreeable. She allowed us the giggles and our own sense of frisky youth, while organizing us in an understated country-club way with her clipboard and her beautiful wrinkles and provincial hairdo. I felt truly appreciated by her then, and again when I was at Reunion for her Bellringer Award. I remember holding that actual bell with her--sharing the handle with our hands for a photo op---and misting-up with tears from the tenderness of our having shared a small but powerful cause together on the Hill. I am glad she was. Affectionately,
Erica Silbersher, H'82 now living in Sydney, Australia
As a sports columnist for the Spectator I wrote a column in 1973 lamenting the lack of athletic facilities for Kirkland students. I soon received a hand-written note from Comfort. She and Channing were 2 of the most warm and approachable folks on campus and always were there to help a student in need.
- Ed Watkins
Comfort was indeed a pioneer for women's sports and the epitome of integrity and ethics. It was her retirement from the position in athletics in 1982 that brought me to Hamilton as a young coach and administrator. She was an outstanding mentor to me and many others. I am very sad to learn of her passing.
- Geri Knortz
Comfort and Channing were my surrogate parents during my tenure at Hamilton. Our friendship spanned from before I arrived on campus and beyond my departure: I was always welcomed, as were so many others, at their homes on College Hill and at Lake Sunapee. Comfort will be fondly remembered as a leader in our field, a true physical educator and coach, a mentor, a friend, a confidant....
- Betsy L. Bruce
I particularly recall my freshman year when Professor Richardson invited the students of his Africa course over for a social event. Mrs. Richardson was such a wonderful hostess and I recall feeling very grown up and yet at ease, and so remember her with great joy. They both had memories stretching back to the War years and its refugee aftermath and it was fascinating. Sad news in a way but doubtless she is reunited with her husband of so many years. They do not make their kind anymore in my experience and I'm glad to have known them.
- John Vecchione '86.