Farkas '12 Spends Summer Immersed in Mystic Mammals
---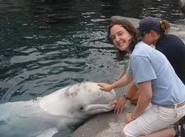 The wonder and beauty of aquariums are enchanting to children and adults alike. Marine life offers a wealth of intricate diversity to our planet and these species help maintain ecosystems throughout the world. Johanna Farkas '12 is spending the summer in Mystic, Conn., at one of the premier aquariums and world leaders in marine research, the Mystic Aquarium and Institute for Exploration. She's working with the marine mammal immunology team to study the effects of stress on mammal immune systems. Farkas' internship is supported by the Jeffery Fund through the Career Center and the Renwick Prize in Biology.
Established in 1973, the Mystic Aquarium and Institute for Exploration is a leader in both aquariums and marine research. As an aquarium, Mystic is a one of the biggest tourist attractions in southern New England and is considered one of the best aquariums in the country. It houses a diverse and substantial collection of marine animals that entertain and educate the public about marine life. The Research and Veterinary Services department is divided into four categories: immunology, animal nutrition, infectious diseases, and marine animal health. This department has contributed substantially to the overall body of knowledge about marine animals.
Farkas is working for Dr. Tracy Spoon of the marine mammal immunology team. One of the team's goals is to find an effective way of gauging aquarium animal health by examining immune functioning. Previous research has shown that certain measures of immune functioning can serve as an indicator of animal health. Among the factors being studied is the efficiency of phagocytosis, a process by which mammalian cells engulf and destroy foreign particles. The primary focus of Farkas' study is on research. Specifically, she's part of a team that's looking at the effects of stress on marine animals.
Farkas is helping with a study that compares the immune functioning of marine animals, and in particular beluga whales, in stressful and non-stressful conditions. One method of triggering feelings of stress in the animals is by loading them onto a stretcher for a physical. By evaluating how immune function changes in response to stress, the team hopes to find a way to help keep the animals in the most stress-free environment possible. In the future this research may also contribute to conservation efforts; by looking at an animal's bloodwork and immune functioning, it may be possible to evaluate the number of stressors in a marine animal's environment. Farkas is working hands-on with the mammals and in the lab, helping to draw blood, performing labwork on the blood samples and analyzing data from results.
For her own project Farkas is attempting to find a way to quantify different immune cells in belugas and seals during hematology analysis. Her goal is to develop a formula that lab technicians can use to obtain accurate results from a veterinary hematology scanner. While this machine can analyze many different parameters of mammal blood, it has never been calibrated to work with seal or beluga whale blood. Farkas will present the results of her independent research in a public presentation and a lab paper.
Farkas visited the Mystic Aquarium throughout her childhood, and was thrilled to have the opportunity to contribute to this institution. After Hamilton, she hopesto pursue graduate research in a biological science, and her experiences at Mystic have helped her learn more about this research field. She says, "Thus far, this internship has lived up to all of my expectations and even far exceeded them […] It's been an incredible experience -- I've never worked on anything so challenging, interesting and rewarding."
Johanna Farkas is a graduate of Chariho High School in Wood River Junction, R.I.