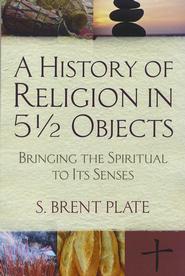 Plate Publishes A History of Religion in 5 ½ Objects
On the eve of its release, A History of Religion in 5 ½ Objects, written by Visiting Associate Professor of Religious Studies S. Brent Plate, was given a starred review by the Library Journal. The publication described Plate's work as "an elegant and sensitive book … highly recommended to general readers open to a different perspective on religious practice." A History of Religion in 5 ½ Objects was published by Beacon Press on March 11.
According to the publisher's website, "Beginning with the desirous, incomplete, human body (symbolically evoked by "½"), Plate tells the stories of five types of ordinary objects, each corresponding to a particular sense, that people have engaged with in sensory, symbolic, and sacred ways: stones, incense, drums, crosses, and bread. These objects have been used in religious ceremonies throughout history and across the world. As Plate looks at each of these objects, drawing on insights from poets as well as philosophers, modern artists as well as anthropologists, jazz as well as literature, he traces the history of the world's religions and finds remarkable similarities and recurring themes throughout the millennia.
"A History of Religion in 5 ½ Objects moves our understanding of religion away from the current obsessions with God, fundamentalism, and science. Religion, Plate shows, has more to do with our bodies than with our beliefs."