Plate Participates in AAR and SBL Meetings
---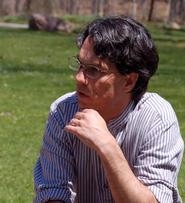 Visiting Associate Professor of Religious Studies S. Brent Plate participated in the annual meetings of the American Academy of Religion (AAR) and the Society of Biblical Literature (SBL) held Nov. 17-20 in Chicago.
Plate served as the jury chair of the AAR award in Religion and Arts selection committee. This year's award was presented to Holland Cotter, art critic for The New York Times and recipient of the 2009 Pulitzer Prize for Criticism.
In addition, Plate presided over a session on "New Directions in the Study of Material Religion." The papers presented examined "new theoretical approaches to the study of material religion in ways that extend the growing interest in religious embodiment and the aesthetic regimes through which religious adherents engage with material and visual culture," according to the AAR conference program.
Plate was also a member of two AAR conference panels. "The Sistine Chapel Ceiling at 500: A Variety of Views," celebrated the 500th anniversary of Michelangelo's famous frescoes. The AAR conference program said the panel of experts focused "their attention on this one object both to offer new ways of considering a classic masterpiece and to present multiple methodological models operative in the umbrella of religious studies."
In "Facing Forward, Looking Back: Religion and Film Studies in the Last Decade," Plate and his fellow panelists provided an overview of religion and film and, according to the AAR, provided "critical commentary on academic works from the recent past, while projecting new and important topics and methods to consider into the future."
Finally, Plate was a respondent in an SBL session on "Intersections in Biblical and Film Theory."