Passion for Revolutionary and Gilded Age Leads to Two Internships
---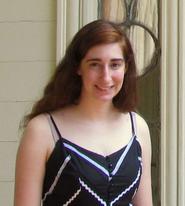 Most students are satisfied with working in one summer internship at a time, but when Amanda Berman '13 was offered two different internships that suited her academic and career interests, she was able to accept both. Berman, a history concentrator, is spending the summer working at the Nichols House Museum in Boston, and at the Adams National Historic Park (Adams NHP) in Quincy, Mass. She received a stipend for her two internships from the Richard and Patsy Couper Fund, which is administered by Hamilton's Maurice Horowitch Career Center. Without such assistance, Berman says that she would have been unable to accept her two unpaid internship offers.
The Nichols House was built in 1804 for Federalist politician Jonathan Mason and is located in Boston's picturesque Beacon Hill neighborhood. The house was purchased in 1885 by Rose Standish Nichols, a famed landscape gardener, suffragist and pacifist, who occupied the house until her death in 1960. Nichols left the house for use as a museum to illustrate turn-of-the-century lifestyle and architecture for future generations.
As an intern at the Nichols House, Berman works in nearly every role at the museum. She gives tours, does administrative work and completes maintenance and preservation work. The house is of particular interest to Berman because its artifacts and décor are reflective of one of her favorite eras in history, the gilded age.
Working at the Adams NHP takes Berman even farther back in time to the 18th and 19th centuries, when the Adams family, including presidents John Adams and John Quincy Adams, lived in several houses in the city of Quincy, just south of Boston. The Adams NHP includes the Peace Field country estate, which was inhabited by four generations of Adams, two smaller 18th century salt-box homes where the two Adams presidents were born and the medieval-style Stone Library, which houses John Quincy Adam's vast collection of books. Like the Nichols House, the Adams NHP occupies a special place in history for Berman, who has a passion for Revolutionary American history.
Berman's internship at the Adams NHP is more curatorial in nature than her internship at the Nicholas House, and she appreciates that both internships expose her to a different side of museum work. She sorts, organizes and catalogs the Adams' personal papers and artifacts and also inventories and assesses the condition of the houses' furniture and artwork. She recalls coming across dozens of books marked "property of John Quincy Adams" during her inventory of the Stone Library. She was struck at just how close to history she was. "I've been able to go behind the scenes," she remarked, "to see bits of history and artifacts that the public doesn't ever see."
Berman has enjoyed her archival work at the Adams NHP and values the museum administration experience that she has gained interning at the Nichols House. She appreciates the opportunity to delve into museum and archival work in an internship before having to commit to a single career path.
Berman is a graduate of Canton High School (Mass.)