NY Program Students Volunteer at Bowery Mission
---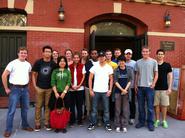 On Saturday, Sept. 22, the 15 students participating in the New York City Program, along with director Professor of Economics Chris Georges and his wife Sarah, volunteered at the Bowery Mission.
The Mission is a non-profit organization that has been in operation since 1879. It provides hot meals to its residents and the homeless and hungry, and an impressive array of other services including temporary shelter and job training programs.
The volunteers worked with the Mission staff to prepare and serve lunch and then to prep the next meal. It was an exhausting, rewarding and sometimes eye-opening experience for the group.