No. 16 women's lacrosse tops No. 14 Tufts in season opener
---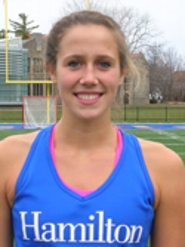 Hamilton College's Rachel Friedman '13 tallied four goals and one assist and the nationally ranked No. 16 Continentals opened 2013 with an 11-7 NESCAC win over No. 14 Tufts University at Hamilton's Steuben Field on March 9.

Hamilton (1-0 overall, 1-0 NESCAC) earned its first win against Tufts since 2000. The Jumbos still lead the all-time series, 5-3.

Katie D'Antonio '14 added two goals and one assist, and Hannah Hoar '13 scored a pair of goals. Kathryn Maiorano '14 notched one goal and one assist, and Sara Berthiaume '15 and Emily Brodsky '14 recorded one goal apiece.

Mariah Monks '13 led the defense with four ground balls and two caused turnovers. Hannah Withiam '16 and Margaret Gabriel '16 won three draw controls apiece and Dewi Caswell '14 made a career-high 12 saves.

Caroline Ross '16 scored three goals for the Jumbos (0-1, 0-1). Kate Applegate '14, Gabby Horner '14 and Kelley Cohen '14 all recorded one goal and one assist, and Kerry Eaton '13 tacked on one goal. Emily Wright '15 had four ground balls, Kerry McGinn '13 finished with two caused turnovers and Collier Clegg '13 won three draw controls.

Tess Shapanka '13 turned away nine shots in 49-plus minutes. Rachel Gallimore '15 relieved Shapanka in goal and made five stops in the last 10-plus minutes.

The Continentals jumped out to a 3-0 lead early in the first half. After a Maiorano goal opened the scoring, Friedman and D'Antonio added free-position goals to make it 3-0 with 22:39 remaining.

The teams traded goals and then Hamilton went up 6-2 on a goal by Hoar with 3:17 left in the half. D'Antonio added her second free-position goal with 2:18 remaining and gave the Continentals a 7-2 lead heading into the break.

In the second half, Hamilton picked up right where it left off by scoring the first three goals for an eight-goal cushion. Friedman was involved in each of the first two goals. She sent a pass to Berthiaume for the first score of the second half and netted a goal of her own on a feed from Maiorano. Hoar made it 10-2 on her free-position goal with 10:53 to go.

Tufts responded by scoring the next four goals and cut its deficit to 10-6. Cohen scored a free-position goal and Ross tallied her second just 42 seconds later. Ross scored again with 5:39 remaining and Horner slipped a shot by Caswell to make it a four-goal game with 3:48 left.

After winning the ensuing draw control, the Continentals went back up by five on Friedman's free-position goal with 2:50 to go. Tufts' Applegate rounded out the scoring with 30.8 seconds remaining while the Jumbos were down a player.

The Continentals held a slight 27-24 edge in shots and scored on 5 of 8 free-position shots. Hamilton hosts Wesleyan University on Sunday, March 10. Tufts heads back home and will face off against Connecticut College on Tuesday, March 12.