No. 16 women's lacrosse defeats Wesleyan
---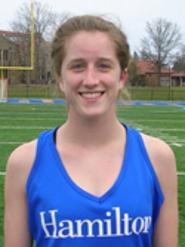 Hamilton College's Katie D'Antonio '14 posted four goals and one assist and the nationally ranked No. 16 Continentals defeated Wesleyan University 9-6 in a NESCAC game at Hamilton's Steuben Field on March 10.

The Continentals (2-0 overall, 2-0 NESCAC) have not trailed through the first two games this year. Hamilton has won all three meetings with the Cardinals.

Rachel Friedman '13 notched five points on two goals and three assists, and finished with a team-best three draw controls. Friedman moved into third place in program history with 155 goals and is tied for fifth with Liz Longley '07 with 197 points.

Sara Berthiaume '15, Emily Brodsky '14 and Margaret Gabriel '16 added one goal each, and Hannah Hoar '13 dished out one assist. Hannah Withiam '16 scooped up a team-high four ground balls and Ashleigh Stephan '15 caused two turnovers. Dewi Caswell '14 made nine stops in goal. Caswell's save percentage sits at .618 while her goals against average is 6.50.

Kaitlyn Berger '13 paced the Cardinals with three goals, six caused turnovers and two draw controls. Catherine Taibi '13, Kayla Ellman '13 and Lydia Kring '13 all recorded one goal and one assist. Kring finished with a team-best four ground balls and won two draw controls. Nina Labovich '16 made 10 saves, including eight in the second half.

The Continentals raced out to a 4-0 lead and never looked back. D'Antonio struck first just 52 seconds into the first half with a free-position goal and added another score 3:21 later. D'Antonio assisted on a goal by Berthiaume and Friedman tallied a free-position goal for a 4-0 advantage with 21:31 left in the half.

Wesleyan (0-2, 0-2) won the ensuing draw control and Berger was fouled inside the arc. She was awarded a free-position attempt and capitalized for the Cardinals' first goal. A few minutes later, the Continentals blocked a shot and Hoar came away with the ground ball. She raced upfield and found D'Antonio for another goal and a 5-1 lead with 15:48 remaining in the half.

The Cardinals answered on a goal by Ellman with 11:56 left. But Friedman fed Brodsky, who whistled a shot by Labovich from close range with 5:19 remaining. The Continentals took a 6-2 lead into the break.

The second half began with nine-plus minutes of scoreless play before Hamilton scored two quick goals and took its largest lead at 8-2. D'Antonio netted her fourth goal of the day on a pass from Friedman with 20:55 left, and Friedman scored a free-position goal 68 seconds later.

The Cardinals rallied down the stretch to make things close. Kring assisted on a goal by Taibi with 17:39 left and notched a goal of her own on an assist from Ellman with 10:09 to go. Gabriel scored her first collegiate goal with 4:27 left on a play that started behind the net and put Hamilton up 9-4. Berger added two goals in the final 16 seconds to account for the final score.

Hamilton held a 27-21 shot advantage and scored on 3 of 7 free-position shots. The Cardinals notched goals on just 1 of 6 free-position opportunities.

The Continentals return to action on Thursday, March 14, when they host William Smith College for a non-conference game. Wesleyan travels to Eastern Connecticut State on Wednesday, March 13.