Nine Students Represent Hamilton at McMUN Conference
---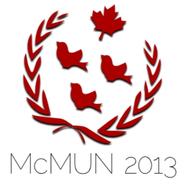 Nine Hamilton students traveled to Montreal January 24-27 to participate in the 24th annual McGill University Model United Nations Conference (McMUN).
More than 1,500 delegates from around the world attended a variety of panels. Hamilton was represented by Stephanie Shapiro '13, Marghuerita Scott '13, Allison Fried '13, Tracey Mazerolle '15, Jacob Davenport '14, Michael Adamo '16, James Vees '16, Margaret Joyce '16 and Michele Berry '16.
Students participated on panels that covered international dilemmas of both today and long ago – from planning the 1936 Berlin Olympics to the United Nations High Commission on Refugees.
In order to accurately portray their individual roles and prepare for the conference, Hamilton students conducted extensive research with the help of Assistant Professor of Government Ted Lehmann, the MUN faculty advisor. Students used their well-developed public speaking and writing skills while they worked on both modern and historical panels to solve the crises of the day, taking part in international negotiations and creating resolutions with other delegates.

Hamilton College Model United Nations has previously attended conferences at Boston University, Yale University and Harvard University, as well as in New York City and Washington, D.C. Model United Nations is funded by Student Assembly, the Levitt Center and the Office of the President.