Nina Bogin K'74 Publishes Third Poetry Book
---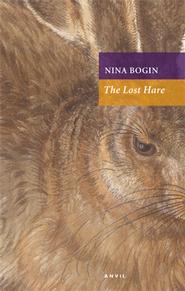 Nina Bogin K'74 has published her third book of poetry, The Lost Hare with Anvil Press Poetry.
Alison Brackenbury of the Poetry Review comments on the achievement of Bogin's most recent work, "Nina Bogin writes beautiful, spare, exemplary poems from which everything unnecessary is quietly stripped away. (…) Her poetry, clear and direct, is never narrowly personal. The 'lost hare' is 'bedded down in the thoughts/ and dreams I hoarded there.' Each listener can add experience to that hoard. Nina Bogin's poetry is its own place, but her particular patch of poetic earth can also become her readers' country."
In April of 1991, after Bogin's first book of poetry In the North was published, she was invited back to Hamilton by Bill Rosenfeld to give a poetry reading. Rosenfeld, as well as Denise Levertov were Bogin's writing teachers during her time at Kirkland College. Two poems which appeared in Bogin's second book The Winter Orchards - "Two Ducks" and "Going up the Hudson River after Twenty Years" – are based on the author's day and a half spent on the Hamilton campus.
Nina Bogin studied at Kirkland College and earned a B.A. degree from New York University. Living in eastern France, Bogin is a literary translator and teaches English at the University of Technology of Belfort-Montbéliard. Her poems have appeared in publications such as Little Star, American Poetry Review, Poetry, The Hudson Review, The Times Literary Supplement, PN Review and The Independent among others, as well as in several anthologies. She received a National Endowment for the Arts grant in 1989 and published her first volume of poems, In the North (Graywolf Press), that same year. Anvil Press Poetry has published her two subsequent volumes of poetry, The Winter Orchards (2001) and The Lost Hare (2012). Her translation of Agota Kristof's autobiographical work The Illiterate is forthcoming from CB Editions (London) in autumn 2013.