Nick Solano '14 Explores Lobbying in D.C.
---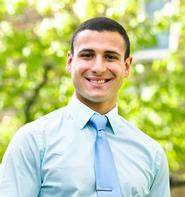 Some Americans misunderstand the role of lobbying and its contribution to the political process. The practice benefits advocacy groups, large and small, that want to inform and to have their opinions heard by government representatives. Nick Solano '14 is working for Williams & Jensen PLLC, a government affairs law firm in Washington, D.C, and learning about that firm's lobbying efforts.
Among Solano's multiple duties is collecting legislative information related to new bills under consideration in Congress. Williams & Jensen manages legislative information and offers clients that information, a cost effective solution for them to stay updated on congressional activity. Because the firm represents organizations of all sizes representing many different industries and causes, Solano has been introduced to a host of current issues.
The Joseph F. Anderson '44 Internship Fund and Katharine Eckman '09 Fund, administered through Hamilton's Career Center, are supporting Solano's expenses for the summer. He emphasized how grateful he is to the Career Center and said, "it's wonderful to be given the opportunity to pursue your interests."
On Mondays, firm interns are assigned congressional hearings to monitor via webcam. Experts on various topics of interest to Congress present their positions to government committees during these hearings. These meetings allow House or Senate members to make informed decisions during final voting.
While watching the hearings, Solano is responsible for writing comprehensive reports on the central arguments. He must also create policy memos on upcoming issues. Solano commented on the challenge of "picking out the most pertinent information during the lengthy hearings."
Solano's coverage is split evenly between the Senate and House. Apart from the hearings, he has attended other events, like trade association meetings where lobbyists from different organizations discuss relevant legislation and political strategies. He has also observed policy summits on the future of natural gas and an advisory board on cyber security.
During his spring semester in 2012, Solano participated in Hamilton's Washington D.C. program. His interest stemmed from the college's Lobbying and Government Relations course that he took previously. The course's two instructors, George Baker '74 and Frank Vlossak '89, encouraged him to pursue a lobbying position in D.C. He "truly appreciates the mentorship that he's been offered," and stressed that all the partners in the office have "made the experience stand out so far."
Solano is interested in government relations, non-profit work and law and is trying to participate in advocacy while staying involved in current affairs. He realizes that his position "gives you the chance to find things you believe in, things you find important," and wants to capitalize on this unique opportunity.
Solano is a graduate of Bishop Guertin High School (N.H.)