Nelson '13 Battles Global Poverty as Nonprofit Intern
---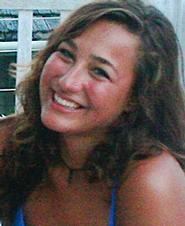 Capacity building offers a way of alleviating poverty while focusing on the natural assets of developing societies. By concentrating on capacity building, non-governmental organizations can help build stronger communities. Amanda Nelson '13 is spending the summer with the Foundation for Sustainable Development (FSD) in support of the organization's goal of building capacity in developing countries. Nelson's internship is supported by the Anderson Fund through the Career Center.
FSD is a nonprofit organization that works with local nongovernmental organizations. The foundation helps build capacity in disadvantaged communities through grant making and international development training programs. These programs provide human resources and technical support to partner organizations. FSD is dedicated to acting with a community's inherent assets to help programs that will eventually become independently operated at the local level. The organization works in several areas, including health issues, environmental issues, social issues and economic issues. It operates in a diverse range of countries including areas of South America, South Asia and Africa.
Nelson is working out of San Francisco, California, where her tasks include copy writing and grant writing for FSD. As a copy writer, Nelson is writing for FSD's redesigned website, communicating information in an engaging yet educational way. She explains, "It's definitely challenging. I work to balance factual with sensational, and intellectual with accessible."
Nelson is also researching possible large grants to help fund FSD. She and another intern are putting together a list of potential sources of funding, from which their supervisors will help choose the most promising leads. At that point, Nelson and her co-worker will begin drafting letters of inquiry to grant organizations.
During her semester abroad in Australia, Nelson was near two Earth Heritage Sites, the Great Barrier Reef and the Wet Tropics of Queensland. Her exposure to these beautiful areas got her interested in nonprofit work, where she could help protect such precious habitats. FSD relates to this goal with their support of sustainable practices and responsible use of natural resources. Though Nelson was originally drawn to the organization for this feature, she is discovering new areas of interest through her work, including gender equality, education and development of youth.
Upon graduation, Nelson is considering pursuing a Watson or Bristol Fellowship, and she believes that her experiences at FSD will prepare her for such an undertaking as well as provide ideas for a possible project.
On the Hill, Nelson's interests include music, and she is one of the musical directors for A capella group Special K. She is also a member of the Hamilton choir.
Organizations such as FSD take the world one step closer to easing world poverty, and the work of interns such as Nelson helps bring about change for those who need it the most.
Amanda Nelson is a graduate of The Taft School in Watertown, Conn.