Nancy Dafoe K'74, P'04 to Publish Book on Creative Thinking in Academic Writing
---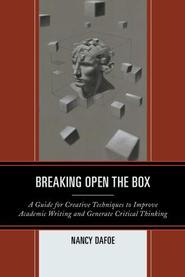 Nancy Dafoe K'74, P'04 will be releasing Breaking Open the Box: A Guide for Creative Techniques to Improve Academic Writing and General Creative Thinking with Rowman & Littlefield Education this March. The educational textbook explores the ways in which students are gradually taught to incorporate creativity in writing specifically structured essays. Teaching students to use creative techniques and make creative decisions about rhetorical structures fosters critical thinking skills and improves writing, according to the author.
The book description states:
"What do David Foster Wallace's essay on wars over usage and Pico Iyer's comma personification have to do with improving students' academic writing? Everything. For all of the attention supposedly paid to Bloom's Taxonomy-with creativity at the top-educators tend to shy away from encouraging students' creative choices in areas where traditional analysis and the critic's style and tone have reigned. While we do not want our students to write inane or empty verbiage, we unintentionally set them up for this inevitability--or worse.
"The movement away from children's natural creative impulses in elementary school to a direction in which they literally fit their writing into preconfigured shapes is a gradual one. Although purportedly taught to instill academic structures, these boxes are also designed to facilitate the ease with which student product may be assessed.
"We need a more creative approach to teaching writing. A methodology incorporating creativity, as modeled by students in this text, demonstrates the kind of progress we are all seeking, offering an exciting challenge for young writers and educators alike."
Dafoe has experience teaching students from ninth grade through college freshman and is currently an English teacher at East Syracuse Minoa Central High School. She is also an award-winning poet and fiction author.
At Kirkland College, Dafoe majored in creative writing and minored in English literature and went on to earn her Master's in English at S.U.N.Y. College at Cortland in 1999. Her daughter Nicole Dafoe '04 is an attorney with the Department of Labor, Attorney General's Office.
Dafoe believes her time in college was integral in helping her to develop her ideas on writing: "I was thinking about my Kirkland and Hamilton experiences, and I realized that my book on teaching writing represents the perfect blend of what those institutions gave me: my Hamilton courses and professors provided a grounding in structures and careful research, and my Kirkland professors and courses fostered in me the experimental creativity and the daring to be an innovator."